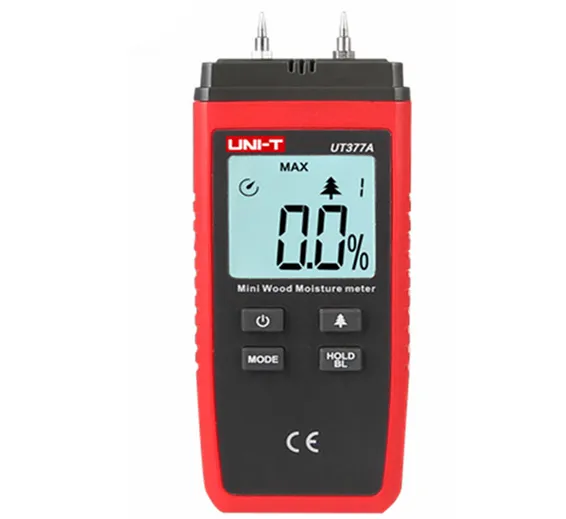 The UNI-T UT377A is a Wood Moisture digital meter is designed to calculate the moisture content of wood, plywood, paper, and other wood materials. This moisture tester classifies wood into four different categories based on material density. UT337A is a professional wood moisture meter that applies the temperature compensation algorithm to ensure measurement accuracy. This Great wood humidity meter for wood-working is miniature design, low power consumption, and high precision all make this the best product choice for measuring wood moisture content.
Features Of UNI-T UT377A Digital Wood Moisture Meter:
4 (Four) types of wood categories (28 tree species reference)
UT377A has an Auto ambient temperature compensation function to reduce measurement errors
Clean LCD display with 2/s refresh rate
Max/Min modes; data hold
Low battery indication; LCD backlight
Auto/Manual power off
Specifications Of UNI-T UT337A Wood Moisture Tester Humidity Tester for Wooden Materials Plywood Paper:
Wood moisture measurement (%) range: 2~40%
Wood moisture measurement (%) resolution: 0.10%
Wood moisture measurement (%) accuracy: ±2%
Refresh rate: 2 times/s
Auto range: Yes
Auto power off: Yes
Low battery indication: Yes
Data hold: Yes
MAX/MIN: Yes
Wood categories: 4
Backlight: Yes
Ambient temperature correction: Yes
Working temperature: 0?~40?
1m drop test: Yes
Power: 1.5V battery (R03) x 3
Display: 35mm x 32mm
Product colour: Red and grey
Product net weight: 130g
Product size: 135mm x 53mm x 28mm
Package Includes:
1 x UNI T Wood Moisture Digital Meter Hygrometer UT377A
1 x User Manual
Best Online Electronics Store for UNI_T UT377A Wood Moisture Meter Best Professional Wood Moisture Tester Hygrometer Humidity Meter Wood Humidity Tester at the best price in all over Pakistan.
SKU:

TMD,Th,KRT

/
Category: Meters
/