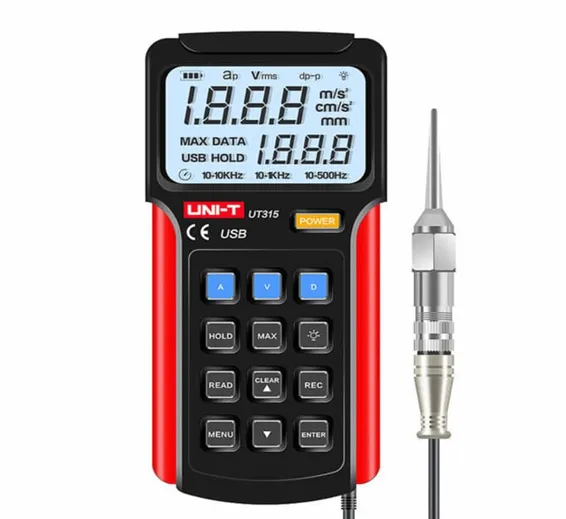 UNI T Vibration Tester Meter UT315 is designed with an acceleration sensor and digital measurement circuit. UT-315 portable vibration meter, it's mainly used in measuring the vibration of mechanical equipment, velocity, and acceleration. The measured data from this vibrometer are compared with the national, international, corporate, machinery working standard to decide the condition (good, note or dangerous, etc.) of the machine(fan, pump, compressor, motor, etc.). This handheld vibration analyzer can be widely used in mechanical manufacturing, electric power, petroleum chemical industry, metallurgy, aerospace and other fields. This vibration checking meter is the ideal measurement tool for purchasing inspection, operation monitoring and maintenance for the rotating machinery equipment
Features Of UNI-T UT315 Digital Vibration Tester Vibrograph Vibrometer:
UNI T Vibration Tester Meter UT315 Can measure acceleration, velocity and displacement.
UNI T Vibration Tester Meter UT315 Can select different vibration frequency.
UNI T Vibration Tester Meter UT315 has a High sensitivity sensor probe makes measurement accurate.
Auto power off.
Data hold.
LCD backlight.
Max mode.
Data storage: 1,999 groups of data.
USB interface.
UNI T Vibration Tester Meter UT315 Equipped with long and short probes for different field measurements.
UNI T Vibration Tester Meter UT315 Equipped with magnet pedestal for ergonomic purpose.
Complies with CE (European Union) directives.
Specifications Of Best Vibration Meter UT-315 Vibration Analyzer:
Acceleration: 0.1~199.9m/s2 (10Hz~10kHz) ±(5%+2)
Velocity: 0.01~19.99cm/s (10Hz~1kHz) ±(5%+2)
Displacement: 0.001~1.999mm (10Hz~500Hz) ±(5%+2)
Display Count: 2000
Auto Power Off: Yes
Low Battery Indication: Yes
Data hold: Yes
Max Mode: Yes
Datalogging: 1999
Data Recall: Yes
USB Interface: Yes
Display Backlight: Yes
Power: 9V battery
Size: 166x80x30mm
LCD Size: 57x37mm
Weight: 365g
Package Includes:
1 x UNI-T UT315 vibration tester
1 x Battery
1 x Long probe
1 x Short probe
1 x Sensor
1 x Magnet stand
1 x Carrying bag
Best Online Electronics store for UNI T Vibration Tester Meter UT315 Best Handheld Vibration Meter Vibration Checking Meter Vibrometer Vibration Analyzer Vibration Level Meter Portable Vibration Analyzer Shoke Pulse Meter in cheap price in all over Pakistan.
SKU:

RAWLIXUNI

/
Category: Meters
/