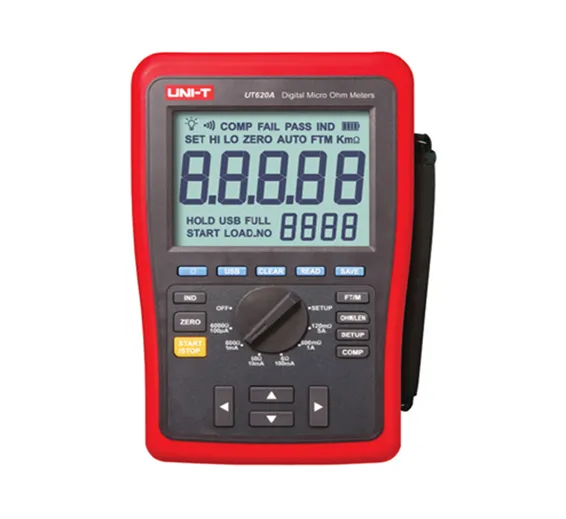 UT620 series are used to measure DC low resistance through 4-wire method. Some of their features are: Comparison function to determine if the device is in good condition, unknown wire length calculation (FT/M); two-way data transmission by USB interface; built-in rechargeable lithium battery.
SKU: TCBOX83
Applications of UNI-T UT620A Digital Micro Ohm Meter:
UT620 can be used in narrow space for on-site troubleshooting, such as metal coating resistance/motor and small transformer winding resistance measurements, earth system joints/welding points/power distribution cabinet bus and lead connection inspections and more.
Features of UNI-T UT620A Digital Micro Ohm Meter:
Improved measurement method which improves accuracy by counter-balancing contact resistance of leads
Comparison measurement with upper and lower limits
Wire length measurement (m/ft)
Built-in Lithium battery
1000-group data storage
Data transmission between USB and PC
Data hold
LCD backlight
Zeroing function, relative mode
IND resistance measurement mode
Technical Specifications of UNI-T UT620A Digital Micro Ohm Meter:
Specifications
Range
UT620A
Resolution
 
10uΩ
Resistance (Ω)
120mΩ/5A
±(0.25%+25)
600mΩ/1A
±(0.25%+25)
6Ω/100mA
±(0.25%+25)
60Ω/10mA
±(0.25%+25)
600Ω/1mA
±(0.25%+25)
6kΩ/100uA
±(0.75%+30)
Features
Display count
 
60000
Four-wire measurement
 
√
Wire length measurement
 
√
High/low limit alarm
 
√
Data storage
 
1000
USB data transmission
 
√
Manual range
 
√
Backlight
 
√
Relative value
 
√
Low battery indication
 
√
General Characterisitics
Power
Li-ion battery 7.4V 4000mAh, rechargeable
Display
116mm x 87.5mm
Product color
Red and grey
Product net weight
1.5kg
Product size
268mm x 168mm x 60mm
Standard accessories
Test leads with Kelvin clips (red & black), power cord, power adaptor, USB interface cable, PC software CD
Standard individual packing
Gift box, carrying bag, English manual
Standard quantity per carton
1pcs
Standard carton measurement
370mm x 90mm x 290mm
Standard carton gross weight
3kg
Optional accessories
Four-wire test probes (red & black) x 1