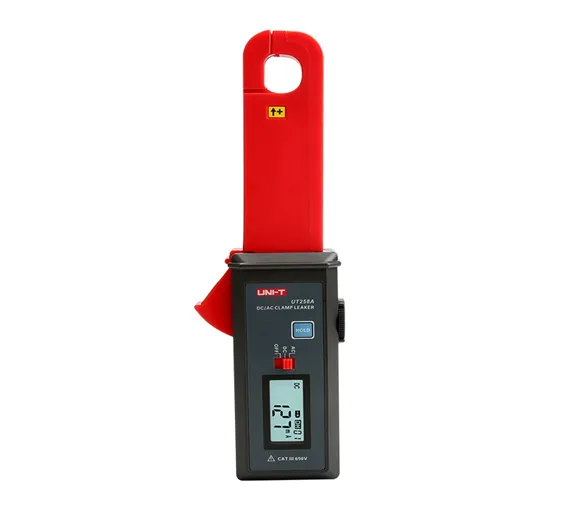 UNI-T's UT258A is a 10000-count auto range clamp meter. It measures 0mA~60A AC/DC leakage current with zero mode, φ7mm jaw and RS-232 interface.
Applications: It could be widely applied in electricity, communications, meteorology, railroad, oilfield, construction, measurement, scientific & research teaching institutes, industrial and mining establishments.
SKU: TCBOX88
Features of UNI-T UT258A AC/DC Leakage Clamp Meter:
UT258A is well designed for on-line measurement of DC/AC leakage current and current below 600V, which adopts latest CT and digital integration technology. Slender clamp is very suitable for places full of concentrated cables (such as, electric power metering system, high-speed rail system, automobile circuit maintenance and so on). Non-contact measurement ensures operation safety. The meter has mini shape with high accuracy, stable performance and perfect functions.
Technical Specifications of UNI-T UT258A AC/DC Leakage Clamp Meter:
General Functions
Range
Accuracy
Type
 
UT258A
Current (A)
0mA~60.0A AC/DC
±(2%+5)
Resolution
1mA AC/DC
 
Frequency Response
AC: 45HZ~200HZ
 
Special Functions
Display Mode
4-bit LCD display
√
Jaw Size
φ7mm (max wires O.D.)
√
Auto Range
 
√
RS-232 Data Transmission
 
√
Data Storage
 
99 groups
Zero Adjustment
Press ZERO to return to zero, remove residual magnetism induction, and then clamp the wires to be tested.
√
Data Hold
 
√
Line Voltage
not beyond 600V
√
Auto Power Off
5 min
√
Low Battery Indication
Indicates low battery when the voltage is 7.2
√
Sampling Rate
About 2 sec per time
√
Working Current
10mA
√
General Characteristics
Power Supply
Zinc-manganese battery 6F22 9V
Product Color
Red and grey
Product Weight
180g (with batteries)
Product Size
168mm×65mm×34mm
Standard Accessories
Batteries, monitoring software, RS232 cable
Standard Package
Gift box, user manual, toolbox
Standard Package Quantity
40pcs
Standard Package Size
540X365X290mm
Standard Package Gross Weight
20kg