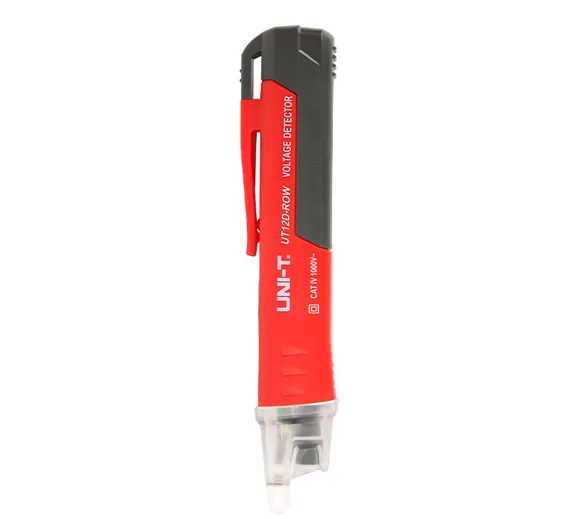 UT12 series non-contact AC voltage detectors are widely used in the maintenance of lowvoltage equipments such as conductors, cables, sockets, and other electrical/electronicsinstruments. It is a very handy tool for electricians.
SKU: TCBOX76
Features of UNI-T UT12D-ROW AC Voltage Detector:
Auto power off
Buzzer
LED indication
AC voltagedetection
High/Low voltagemode
Applications of UNI-T UT12D-ROW AC Voltage Detector:
Low voltage mode: Low-voltage motor (<90V), audio systems, arc welding machines,underground mining lighting, cables with thick insulation layer and other weakelectromagnetic AC signals.
High voltage mode: Urban electric supply and three-phase systems (90~1000V). Forexample, power distribution units, electrical panels, electrical appliances.
Technical Specifications of UNI-T UT12D-ROW AC Voltage Detector:
Specifications
Model
UT12D-ROW
AC voltage (Low)
24V~1000V
AC voltage (High)
90V~1000V
Frequency range
50/60Hz
Built-in flashlight
√
※Audible (buzzer) and visual (LED) indication
√
Buzzer
√
LED indication
√
Auto power off
√
Low voltage indication
√
Drop test
1m
General Characteristics
Power
1.5V battery (R03) x 2
Product color
Red and grey
Product net weight
50g
Product size
150mm x 18 mm x 23mm
Standard accessories
Batteries
Standard individual packing
Blister, English manual
Standard quantity per carton
40pcs
Standard carton measurement
350mm x 245 mm x 210mm
Standard carton gross weight
About 3.6kg