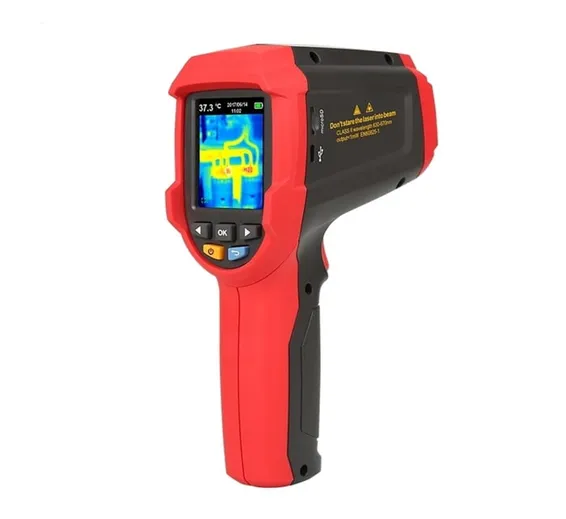 Other Meters
UNI T Thermal Imager UTi80
Availability:
Out Of Stock
SKU: TMD1,Th6,KRT
UNI T Thermal Imager UTi80 can only measure single temperature points. UTi80 infrared imager can detect temperature variations of an area through a 2.4-inch LCD display. UTi80 IR imaging camera has dual lasers can quickly lock in measurement area and display target temperature. UTi80 infrared thermometer imager has an image blending feature is able to combine infrared and normal camera images together, allowing in-depth display for areas of interest.
Features Of UNI T UTi80 Thermal Imaging Camera Infrared Thermometer Imager:
2-megapixel white lens
4-inch TFT LCD Display
Dual laser
D:S ratio, 20:1
Temperature testing range: -30°C ~ 400°C
80×60 pixel resolution, 51° Field of View
Merging visible and infrared image display
Chargeable Li-ion battery (charge by micro USB interface)
Specifications Of UNI-T UTi80 Handheld Infrared IR Thermal Camera:
Model: UTi80
Temperature range: -30℃~400℃
Basic accuracy: ±2℃/±2%
D:S ratio: 20:01
Response time: 250ms
Pixel Size: 17μm
Image Modes: Thermal, thermal blending, digital camera
Palettes: Iron, rainbow, grey
Blending Setup: 0% (Pure infrared), 25%, 50%, 75%, 100% (Pure visible)
Spectral Range: 8~14μm
FOV: 51° horizontal
IFOV: 11mrad
NETD: 50mK
Image Frequency: ≤9Hz
Saved Image Format: BMP
Visible Light Camera: 2 megapixels
Display: 2.4-inches TFT LCD
Display Resolution: 320 x 240 pixels
Power: Li-ion Battery: 3.7V 2600mAh
Display: Red and grey
Product Net Weight: 0.37kg
Product Size: 205mm x 124 mm x 65mm
Package Includes:
1 x UNI-T UTi80 Thermal Imager
Best Online Shopping website for UNI T Thermal Imager UTi80 Best IR Infrared Handheld Thermal Imaging Camera in cheap price in Karachi, Lahore, Islamabad, Rawalpindi, Peshawar, Multan, Quetta, Faisalabad and all over Pakistan.