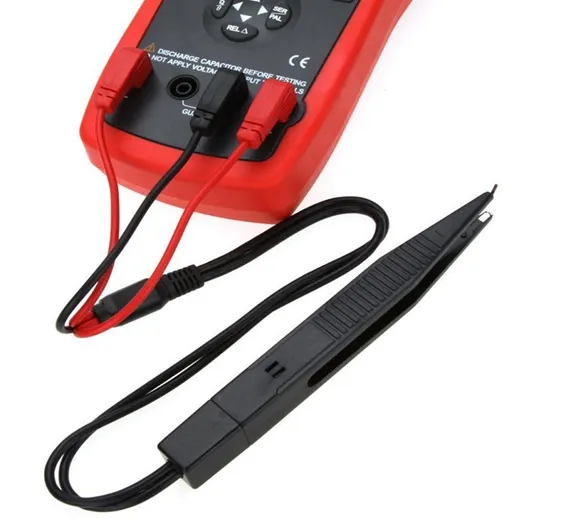 Other Meters
UNI T SMD Patch Clamp Chip Clip UT-L40
Availability:
Out Of Stock
SKU: TMD,Th,KRT
UNI-T UT-L40 test probe is a physical device used to connect electronic test equipment to a device under test. UTL40 digital multimeter probe, speaking in general, test probes (or leads) range from very simple, robust devices to complex probes that are sophisticated, expensive, and fragile. Specific types include test probes, oscilloscope probes and current probes. Heat-resistant and cold-resistant test lead are insulated and provide a comfortable grip. These meter tester leads are designed for industrial, electrical work, and electronic needs.
Features Of UT-L40 SMD Patch-Clamp Multimeter Probe:
Suitable for digital multimeter testing, convenient to use.
Used to test current, voltage, resistance, capacitance, frequency, etc.
Test pen tip with rubber shrouded protection, prevent wear and lasting use.
High quality, it's a good tool and brings a lot of conveniences.
Specifications Of UNI-T Digital Meter Tester Lead UTL40:
Leads length: 450mm
Probe length: 5mm
Temperature condition: -10°C~40°C
Safety level: CAT Ⅱ1000V 2A
Features and application: used to SMT components, for UT611, UT612
Package Includes:
1 x UNI T UT-L40 SMD patch-clamp Chip Clip Meter Lead
Best Online Shopping website for UNI T SMD Patch Clamp Chip Clip UT-L40 Best Digital Multimeter Test Leads Multimeter Cables Voltmeter Leads Multimeter Extension Leads Avo Meter Leads Probes in cheap price in Karachi, Lahore, Islamabad, Rawalpindi, Sukkur, Peshawar, Multan, Quetta, Faisalabad and all over Pakistan.
SKU:

TMD,Th,KRT

/
Category: Meters
/