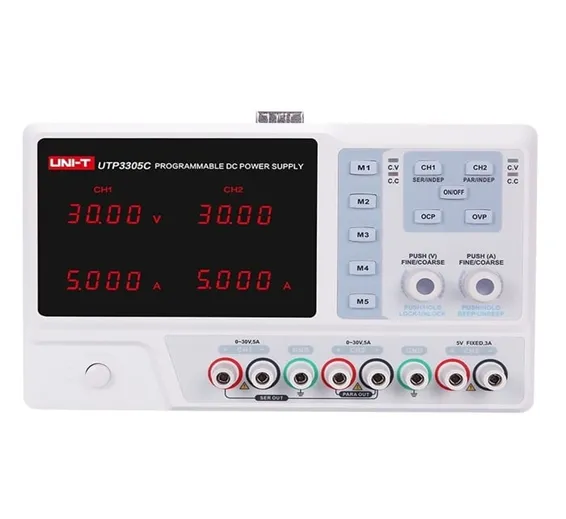 Power Supply
UNI T UTP3305C Programmable DC Power Supply
On sale
SKU: RAWLIXUNI
UNI T DC Power Supply UTP3305C is a high performance programmable linear DC power supplies with single channel output and process control. This UTP3305C power supply can meet diversified measurement needs with pure signal output, competitive specifications and a variety of interfaces. This linear power supply is built with voltage and current overload protection, convenient operation panel and one key storage recall. This best power supply can be used in the aging test, electronics circuit behaviour test, and automated system test of different environments. This signal channel power supply is used for electronics design, battery charging, electrical vehicle, research labs, and education sectors. UDP3305C is the latest version of UTP3305C.
Features Of UNI-T UTP3305C DC Power Supply:
High precision 4-bit voltage and current display
Overvoltage and current protection
Over-temperature protection
One-click data recall (up to 5 groups); Optional LAN interface
Power-off memory; Software calibration; Keyboard lock
Specifications Of UNI-T Linear DC Power Supply UTP 3305C:
Output voltage: 0~30V (CH1/CH2)
Output current: 0~5A (CH1/CH2)
Output power: 315W
Load regulation voltage: <0.01%+5mV
Load regulation Current: <0.1%+10mA
Line regulation voltage: <0.01%+3mV
Line regulation current: <0.1%+3mA
Resolution voltage: 10mV
Resolution current: 1mA
Accuracy (25℃±5℃) voltage: <0.5%+20mV
Accuracy (25℃±5℃) current: <0.5%+10mA
Ripple (20Hz~20MHz) voltage: ≤2mVrms
Ripple (20Hz~20MHz) current: ≤3mArms
Output temperature coefficient voltage:
≤150ppm
Output temperature coefficient current: ≤150ppm
Voltage rise delay: ≤100ms (10% rated load)
Parallel/Series load regulation: ≤0.1%+0.1V
Output temperature coefficient voltage:
CH3 output features voltage: 5V
CH3 output features current: 3A
CH3 output features voltage accuracy: ±50mV
CH3 output features load regulation: ±50mV
Interfaces: USB Device, RS-232
Power: AC 100V/120V/220V/230V±10%, 50Hz/60Hz
Display: 4 windows, LED
Package Include:
UTP3305C DC Power Supply
USB and RS-232 Interface Cables
Output Cables
PC Software CD
Best Online Shopping website for UNI T Programmable DC Power Supply UTP3305C High Voltage Power Supply Linear DC Supply Power Multi-Channel Power Supply in cheap price in Karachi, Lahore, Islamabad, Rawalpindi, Sukkur, Peshawar, Multan, Quetta, Faisalabad and all over Pakistan.