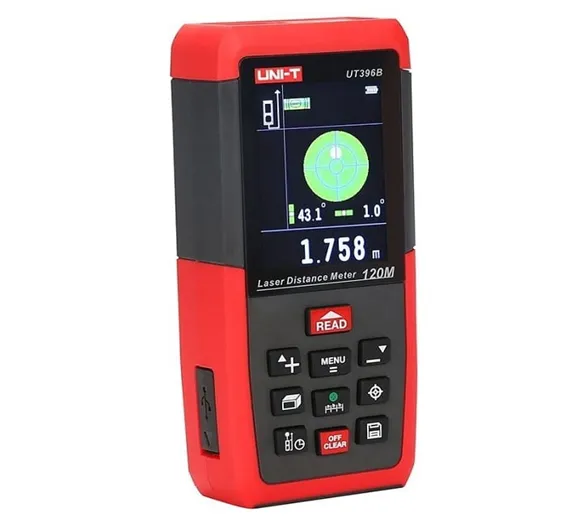 UNI T Professional Laser Distance Meter UT396B with colour LCD display, electronic multi-axis leveller. This UT-396B laser range meter has a real-time camera display on the target object and other special features. This digital laser measure meter has a unique operating system, friendly user interface, and personalized settings option all make these devices the perfect choice for professional distance measurement.
Features Of UNI-T UT396B 120m Color Screen Infrared Laser Rangefinder:
Colour display screen self-calibration support easier and interesting measurement.
User can transfer the records to the computer with a USB data cable.
Measure area, volume and Pythagorean Theorem, support single/continuous / delay measurement and staking-out function.
With distance, area, volume addition / accumulation or subtraction function.
Powered by 3 rechargeable 1.2V AAA NI-MH batteries ( included ).
Ergonomic and fashionable design makes measuring distance fun and exciting experience.
This device can be applied to architecture, decoration, property, transportation, fire protection, garden, city planning and other industries.
Specifications Of UNI-T Best Laser Distance Meter UT-396B:
Accuracy: ±(2.0mm+d*5/100000)
Range: 0.05~120m
Minimum Unit: 1mm
Unit Display: m/in/ft
Laser: 635nm, <1mW, Class II
Camera: Yes
Continuous Measurement: Yes
Area/Volume Calculation: Yes
Pythagorean Theorem Calculation: Yes
Triangle Angle/Height/Area Measurement: Yes
Inclination: -90~90°
Distance Add/Subtract: Yes
Area Add/Subtract: Yes
Volume Add/Subtract: Yes
Staking-out Test: Yes
Delay Test: Yes
MAX/MIN: Yes
Data Storage: 100
Auto Laser Off: 20~120s
Auto Power Off: 100~300s
Electronic Leveler: Yes
USB Connector: Yes
Power: 1.2V 800mAh AAA NI-MH battery×3
Product Color: Red and grey
Product Net Weight: 84g
Product Size: 126mm×56mm×28mm
Package Includes:
1 x UNI-T UT396B Professional Laser Distance Meter
Best Online Shopping website for UNI T Professional Digital Laser Distance Meter UT396B Best Distance Range Meter Distometer Best Rangefinder Levelling Instrument in cheap price in Karachi, Lahore, Islamabad, Rawalpindi, Sukkur, Peshawar, Multan, Quetta, Faisalabad and all over Pakistan.
SKU:

TMD1,Th6,KRT

/
Category: Meters
/