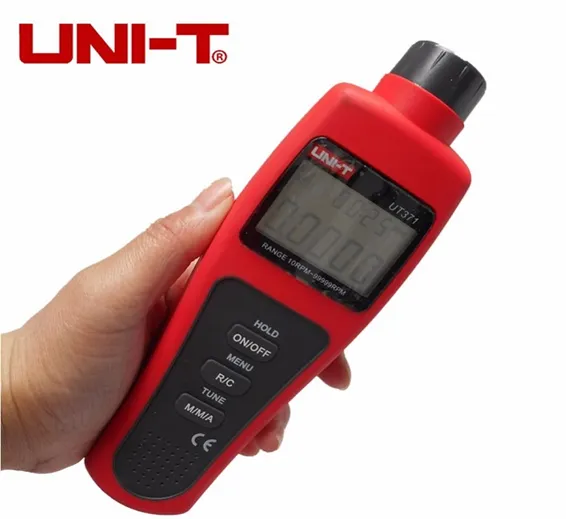 UNI T Non-Contact Tachometer UT371 measure the rotating speed of shaft or disk with a point laser. This UT371 RMP meter reflective tape on the object being measured. UT371 speed tachometer can output RPM or count readouts without interfering with the equipment being measured. This best tachometer can be used for revolving speed measurement and count. The revolving speed range is from 10 to 99999 r/min. The count range is 0~99999. This digital contactless meter is applicable to school, factory, environmental protection agency, lab, research institution and automobile maintenance testing and so on.
Features Of UNI Trend UT371 Digital Non-Contact Tachometer:
Wide measuring range and high resolution.
Digital LCD display and backlighting.
Integrated memory shows MIN. and MAX. values and the last saved value.
Battery level indicator/auto-ranging.
Data hold.
Automatic shut-off.
Specifications Of UT371 Contactless Handheld RPM Meter:
Measuring functions: Revolutions per minute, count mode
Rotation speed:
10 - 99 rpm / ±0.03%
100 - 999 rpm / ±0.04% +2
1000 - 9999 rpm / ±0.04% +2
10000 - 99999 rpm / ±0.04% +2
Count mode: 0 - 99999
Maximum input frequency: 10 kHz
Measurement distance: 50 mm ... 200 mm
Display range: 99999 counts
Laser: Classification: 2
Operating voltage: 4x 1.5V LR06 batteries
Dimensions (WxHxD): 184 x 56 x 34 mm
Weight: 100 g
Manufacturer: UNI-TREND
Factory number: UT371
Package Weight: 0.318 kg
RoHS: conform
Package Includes:
1 x UNI-T UT371 Tachometer
1 x English Manual
Rawlix is the Best Online Shopping website for UNI T Non-Contact Digital Tachometer UT371 RPM Contactless Meter Best Laser Tachometer in cheap price in Karachi, Lahore, Islamabad, Rawalpindi, Sukkur, Peshawar, Multan, Quetta, Faisalabad and all over Pakistan.