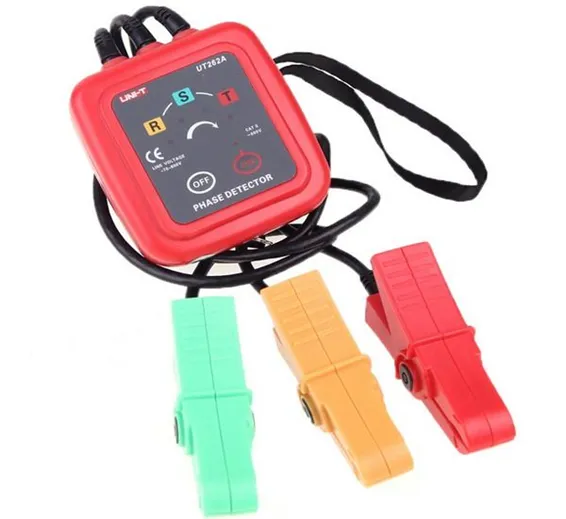 UNI T Non-Contact Phase Detector UT262A is clamp type non-contact phase tester. UT-262A non-contact rotation meter, users do not need to be in contact with high-voltage, reducing the risk of electrical shock to electricians and other professional personnel. Beside phase sequence detection, UT262A phase sequence detector can also be used for live wire detection, simple electrical inspection, phase identification, missing-phase judgment, and wire breaker searching. This UT262A 3 phase sequence rotation indicator meter is a perfect tool for phase sequence detection, motor mounting, and wires maintenance.
Features Of UNI-T UT262A Non-Contact 3 Phase Sequence Rotation Detector Tester:
Accurate determination of phase status.
Portable and lightweight unit.
LED and audible indicators of phase status.
AC voltage range of 70V-600V.
The frequency range of 40Hz – 70Hz.
Clamp opening of 1.6 to 16mm (diameter).
Automatic switch-off after three minutes of inactivity.
Power on the indication.
Specifications Of Non-Contact Phase Detector UNI-T UT262A Sequence Meter:
Brand: UNI-T
Model: UT262A
Phase sequence measurement: [Normal phase] four inspection phase lights clockwise lights, intermittent beep prompt.
Reverse phase: four inspection light counterclockwise rotating lights, continuous beep prompt.
Phase detection: R-S or S-T lamp is not lit.
Live Electric Detection: Voltage setting within the R-S or S-T lamp is lit.
Open Circuit Detection: R-S or S-T lamp is not lit.
Easy Power Inspection: Voltage setting within the R-S or S-T lamp is lit.
Voltage Range: AC 70V~600V
Frequency Range: 40~70Hz
Power: 1.5V 2 x AA Battery(Not included)
Product Color: Red + Grey
Product Weight: 180g
Product Size: 70mm x 75mm x 30mm
Package Size: 30 x 17 x 8cm / 11.8 x 6.7 x 3.2in
Package Weight: 323g / 11.4oz
Package Included:
1 x UNI-T UT262A Non-Contact Phase Rotation Detector
2 x Batteries
1 x User Manual
Best Online Shopping website for UNI T Non-Contact Phase Detector UT262A3 Phase Sequence Rotation Indicator Meter Motor Rotation Sequence Tester in cheap price in Karachi, Lahore, Islamabad, Rawalpindi, Sukkur, Peshawar, Multan, Quetta, Faisalabad and all over Pakistan.
SKU:

RAWLIXUNI

/
Category: Meters
/