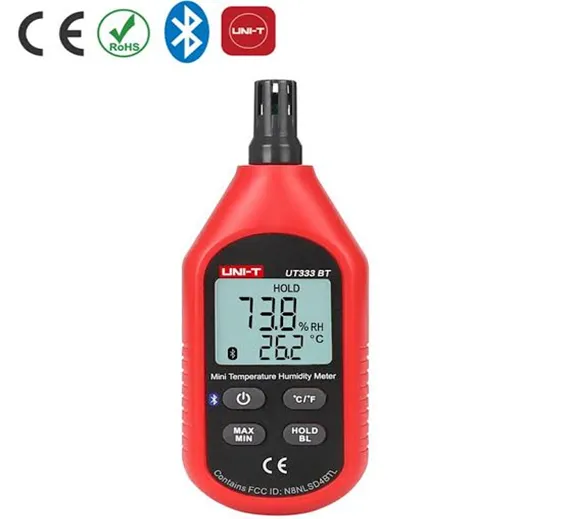 UNI T Mini Temperature Humidity Meter UT333Bt from UNI-T, which adopts high-precision temperature humidity sensing module technology to sample, processes data, and displays results on the LCD and also have bluethoth technology. This room humidity meter uses a calibrated sensing module which reduces bias and increases accuracy. Ut-333BT portable humidity meter is lightweight, compact, ergonomic, and user friendly, making it a great tool for monitoring indoor farming, animal husbandry, warehouse storage, public facilities, and many other areas.
Features Of Mini Temperature And Humidity Meter UNI-T UT333BT:
Temperature measurement range: -10~60℃/14~140℉
Humidity measurement range: 0~100%RH
Lightweight, ergonomic design, user-friendly interface
MAX/MIN modes
Low battery indication
Auto power oF
BLUETOOTH TECHNOLOGY
Specifications Of UNI-T UT333BT Mini LCD Digital Thermometer Hygrometer:
Humidity Range: 0~99%RH
Humidity Resolution: 0.1%RH
Humidity Accuracy: ±5%RH(0~99%RH)
Temperature Range: -10~60℃, 14~140℉
Temperature Resolution: 0.1℃, 0.2℉
Temperature Accuracy: ±1.0℃, ±2.0℉
Sampling Rate: 0.5s
Overload Indication: OL
MAX/MIN: Yes
Data Hold: Yes
Unit Conversion: ℃/℉
LCD Backlight: Yes
Auto Power Off: 5min
Low Battery Indication: 3.0~3.5V
Battery: 4.5V
Current Consumption Working: ≤ 25mA
Current Consumption Power off ≤10uA
Working Environment Temperature: 0~40℃
Working Environment Humidity: ≤80%RH
Storage Environment Temperature: 20~60℃ below
Storage Environment Humidity: ≤75%RH
BLUETOOTH Sensors
Package Includes:
1 x Mini Temperature Humidity Meter UT-333bt
1 x English manual
Best Online Shopping website for UNI T Mini Temperature Humidity Meter UT333bt Digital Humidity Checker Tester Humidity Counter Thermometer Best Hygrometer Moisture Meter Thermo Meter in cheap price in Karachi, Lahore, Islamabad, Rawalpindi, Peshawar, Multan, Quetta, Faisalabad and all over Pakistan.
SKU:

TMD2,Th6,KRT

/
Category: Meters
/