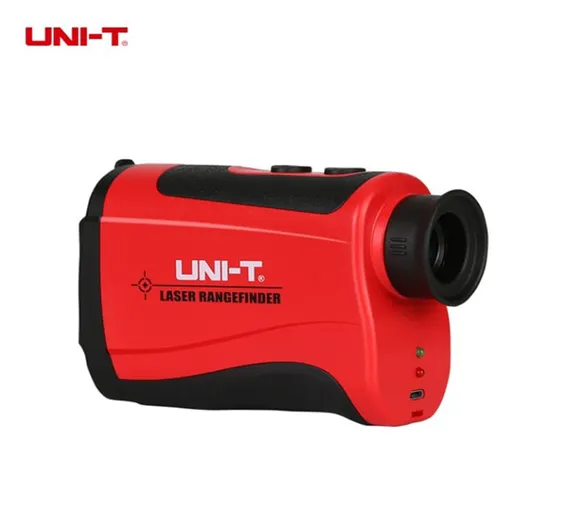 Other Meters
UNI T Laser Rangefinder Telescope Range Distance Meter LR600
SKU: RAWLIXUNI
UNI T Laser Rangefinder LR600 is portable long-distance measurement tools. This LR 600 range distance telescope has a portable and ergonomically designed with high accuracy for a wide range of applications from leisure to professional including hunting, sailing, large scale hauling, large area surveying, and more. This best rangefinder built-in rechargeable Lithium battery ensures long operation runtime. LR600 600m best budget rangefinder The 7x optical zoom design can measure distance, angle, and calculate Pythagorean relationships.
Features Of UNI-T LR600 600m Laser Rangefinder Telescope:
Multi-functional, combining laser range finder and telescope in one.
Adopt high definition lens for clear images.
The meter can measure the distance of a stationary or slow-moving object within measuring range clearly.
Compact and lightweight, ergonomic design, portable to carry and use.
The high quality 6X monocular eyepiece can be adjusted in focus.
With angle range/height/speed measurement functions(ONLY for 1000m/1200m/1500m).
Soft rubber cover can effectively protect the objective lens from external force impact.
Built-in 3.7V 1500mAh Li-ion battery, charged via Micro USB interface.
Helpful measurement device for golf, hunting, construction survey and design and exploration, etc.
Specifications Of UNI-T LR600 Handheld 6x Laser Rangefinder Range Distance Meter:
Model: LR600
Color: Red + Black
Measuring Range: 4-600m
Measuring Unit: m(Meter)
Measuring Accuracy: ±1m
Magnification: 6X
Angle Measurement Error: ±1°
Field of View: 7°
Eyepiece Lens Aperture: 16mm
Objective Lens Aperture: 24mm
Exit Pupil Diameter: 3.8mm
Diopter Adjustment: ±3°
Focusing Method: Eyepiece Focusing
Vision Safety: FDA Class1
Laser Wavelength: 905nm
Scan Distance Function: YES
Flagpole Lock Function: YES
Power Supply: Built-in 1 * Li-ion 3.7V 1500mAh Battery
Auto Shut-off Time: 20s
Operating Temperature: 0°C~40°C
Storage Temperature: -20°C~60°C
Dust/Water Resistance: Class 2
Item Size: 114 * 76 * 48mm / 4.5 * 3 * 1.9in
Item Weight: 232g / 8.2oz
Package Includes:
1x LR600 Laser Rangefinder
1 x Carrying Bag
1 x USB Cable
1 x Manual
Best Online Shopping website for UNI T Laser Rangefinder Telescope Range Distance Meter LR600 Best Golf Rangefinder Optical Distance Meter Cheap Rangefinder Best Long Rangefinder in cheap price in Karachi, Lahore, Islamabad, Rawalpindi, Sukkur, Peshawar, Multan, Quetta, Faisalabad and all over Pakistan.
SKU:

RAWLIXUNI

/
Category: Meters
/