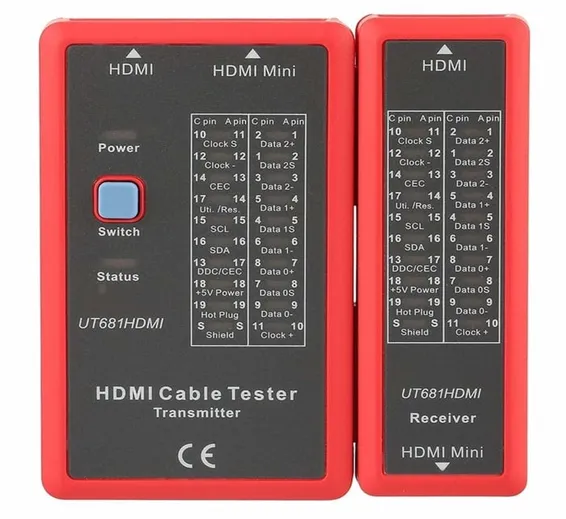 Other Meters
UNI T HDMI/Mini-HDMI Data Cable Tester UT681HDMI
SKU: RAWLIXUNI
UNI T HDMI Data Cable Tester UT681HDMI consists of transmitter and receiver. This HDMI cable checker has functions like testing HDMI cable (HDMI 1.2V/1.3V/1.4V/2.0V). This HDMI wire tester has fast and accurate measurement. This best HDMI cable tester is an ideal tool for personnel to install and maintain low current systems such as communication wires and integrated circuits.
Features Of UNI-T UT-681 HDMI Line Tester:
UT681 HDMI is a professional tester for testing HDMI cable (HDMI 1.2V/1.3V/1.4V/2.0V).
Cable tester HDMI can quickly scan and test up to 19 wires and decide which one is a short circuit, open circuit, or in the wrong order.
HDMI cable tester tool supports two test modes, fast scan mode and full display mode. Three types of HD cables can be tested: a. Both ends are standard HDMI connectors (Type A - Type A); b. Both ends are HDMI Mini connectors (Type C - Type C); c. One end is HDMI connector, one end is HDMI Mini connector (Type A - Type C).
When the battery voltage is lower than about 7.2V, the blue light flashes, prompting to replace the battery.
When no operation during the last 10 minutes, the instrument will automatically shut down.
Specifications Of HDMI/Mini-HDMI Data Cable Tester Checker UNI Trend UT 681HDMI:
Supported Connector: HDMI (type A); HDMI Mini (Type C)
Scan Test Mode: 20 LED (LED1~LED8, LED_G) scan test
Full Display Test Mode: 20 LED (LED1~LED8, LED_G) all light on
Continuity Test: Yes
Short Circuit Test: Yes
Crossover Test: Yes
Network Cable Test: Shielding/Un-shielding
Auto Power-off: After 10 minutes without operation
Power Supply: 9V battery
Low Voltage Test: Yes
Operating Temperature: 0℃~40℃
Storage Temperature: -10℃~50℃
Operating Humidity: 20%~80% RH
Storage Humidity: 10%~90% RH
Altitude: Less than 2000 meters
Weight: 175g(approx.)
Package Includes:
1 x Transmitter
1 x Receiver
Best Online Shopping website for UNI T HDMI/Mini-HDMI Data Cable Tester UT681HDMI HDMI Cable Checker HDMI Cable Speed Tester HDMI Continuity Tester best HDMI Cable Tester in cheap price in Karachi, Lahore, Islamabad, Rawalpindi, Sukkur, Peshawar, Multan, Quetta, Faisalabad and all over Pakistan.
SKU:

RAWLIXUNI

/
Category: Meters
/