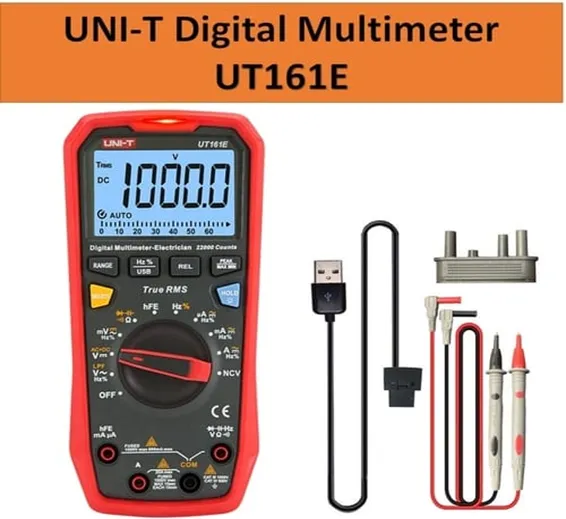 Other Meters
UNI T UT161E Handheld True RMS Digital Multimeter
SKU: B520
UNI-T UT161E digital multimeter is a high-quality multifunction handheld multimeter. This convenient best digital multimeter is powered by a 1.5V battery. UNI-T UT-161E unity multimeter is characterized by multiple measurements (voltage, current, resistance, capacitance, frequency, temperature) and tests (diode, continuity) and auto power-off function, analog bar graph, data hold function. This multimeter tester is an auto range meter with a 22,000 display count, featuring 46 segment analog bar display and 40-10kHz bandwidth.
Features Of Best Multimeter For Electricians UT161E:
True RMS
Data hold/backlight
Max/Min/Relative mode
USB communication
Input protection
Diode/continuity test
NCV (audible/visual alarm)
LPF ACV
ACV+DCV
Transistor hFE
Peak Hold
Specifications Of UNI-T pocket-size Portable Multitester UT61C:
Model: UT161E
DC Voltage (V): 1000V ±(0.05%+5)
AC Voltage (V): 1000V ±(0.8%+10)
DC Current (A): 20A ±(0.5%+10)
AC Current (A): 20A ±(0.8%+10)
Resistance (Ω): 220M ±(0.5%+10)
Capacitance (F):220μF ±(3%+5)
Frequency (Hz): 220MHz ±(0.01%+5)
Display Count: 22000
Bandwidth (Hz): 40Hz~10kHz
Duty Cycle: 0.1% ~ 99.9%
Input Impedance for DCV: Around 10MΩ
Power: 1.5V battery (R03) x 4
Product Color: Red and grey
Product Size: 190mm x 90mm x 50mm
Package includes:
1 x UNI-T UT161E Digital Multimeter Unit
2 x Test leads
1 x Multi-purpose socket
1 x Battery(Installed)
1 x USB Cable
1 x User manual
Best Online Shopping website for UNI-T Handheld Pocket Size Digital Multimeter UT161E Best Budget Avo Meter DC AC Voltage Current Resistance Meter Tester Voltmeter Ammeter Ohmmeter Tester UT-161E in cheap price in Karachi, Lahore, Islamabad, Rawalpindi, Sukkur, Peshawar, Multan, Quetta, Faisalabad and all over Pakistan.
SKU:

B520

/
Category: Meters
/