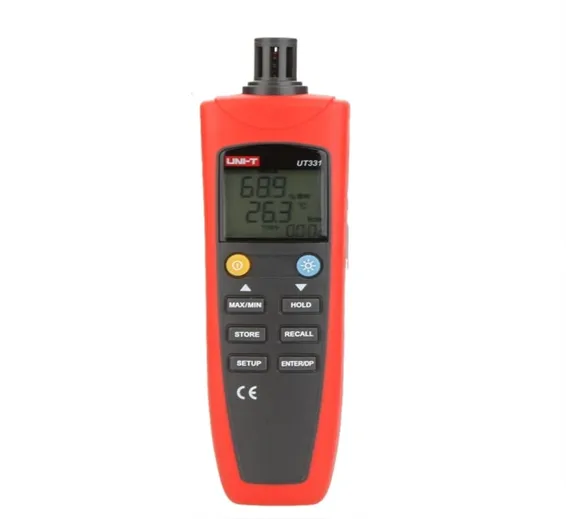 UNI-T Digital Thermo Hygrometer UT331 measure the temperature and relative humidity of the air. Accurate digital hygrometer featuring an integrated RH/temperature sensor at the top of the instrument, the UT331 hygrometer thermometer digital can measure air temperature from -20 to 60°C and humidity levels from 0 to 100% RH. This air hygrometer is portable, handheld design makes it ideal for easily transporting from testing point to testing point and bright, backlit screen makes it suitable for use in darkened conditions.
The UNI-T UT331 handheld hygrometer is actually a data logging instrument. This cheap hygrometer includes the ability to log up to 100 individual testing records on its memory. It's also possible to connect to PC after testing via a USB connection, then interact with testing data using the included software package.
Additional functions of the UT331 good hygrometer includes switchable Celsius and Fahrenheit measurement modes, data hold to temporarily store a value on the screen and MAX/MIN measurements over a period of time.
Features Of UNI-T UT331 Digital Hygro Thermometer:
Dual functionality - tests both air temperature and humidity levels.
Temperature measurement range from -20 to 60°C.
Relative humidity range from 0 to 100%.
Celsius/Fahrenheit modes with easy switching.
Fast response time of under 10 seconds.
Automatically powers down when left idle to conserve battery.
Data hold function temporarily freezes a value on the screen.
MAX/MIN calculates and displays the maximum or minimum value taken over a period of time.
Datalogging capabilities - can store up to 100 readings with easy recall and USB transfer to PC.
Backlight for use in poor lighting conditions.
Specifications Of Best Hygrometer UT331:
1. Measuring Range Temp.: -20 - 60°C(4°F - 140°F) 2. Humidity: 0%RH - 100%RH 3. Resolution: Temp. 0.1°C/°F; Humidity: 0.1%RH 4. Temperature: 0C - 40°C: ±0.5°C
-20C - 0°C : ±1°C
40°C - 60°C : ±1°C
5. Humidity: 10%RH - 90RH ±3.5%RH
<10%RH OR >90%RH ±5.0%RH
6. Power: 4 x AAA 1.5V(Not included) 7. LCD Size: 26.5 x 35.5 mm 8. Product Weight: 130g (excluding battery) 9. Product Size: 185 x 54.8 x 33.8 mm 10. Product Color: Grey & Red 11. Package Size: 20 x 13 x 5cm / 8 x 5.2 x 2in 12. Package Weight: 295g / 10.4oz
Package includes:
1 x UNI-T UT331 Digital Thermo-Hygrometer
Best Online Shopping website for UNI T Digital Thermo Hygrometer UT331 in cheap price in Karachi, Lahore, Islamabad, Rawalpindi, Sukkur, Peshawar, Multan, Quetta, Faisalabad and all over Pakistan.
SKU:

TMD1,Th6,KRT

/
Category: Meters
/