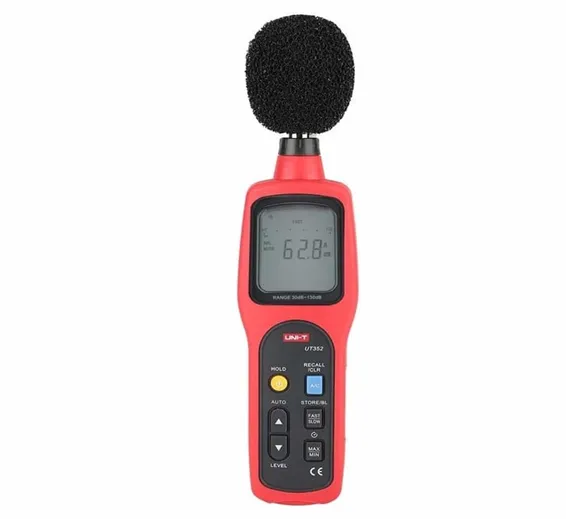 UNI T Digital Sound Level Meter UT352 (30~130dB) has auto range and data storage function, with high/lower alarm, analogue outputs and condenser microphone. This audiometer with high accuracy of +/- 1.5dB and a large, backlit and well-organised digital LCD display with bar graph is perfectly suited for use in all relevant areas. UT-352 noise meter, use the measuring device for noise projects, quality control, ambient noise measurement, in factories, offices, schools, in transport, household and for preventing and curing diseases. In addition, the portable sound meter has a data logger that makes it possible to store up to 64 measurement records.
Features Of UNI-T UT352 Noise Level Meter:
MAX/MIN modes
Auto power off (cancelable)
63 sets data storage
AC/DC analogue signal output
Over/under range indication
Data hold, LCD backlight
Simulated analogue bar
An (ear)/C (machine) weighing modes
Manual/auto range selectable
Fast/slow response rate (fast: 125ms, slow: 1s)
Powered by batteries or external power source
Specifications Of UT 352 Uni-Trend Sound Level Meter 30 to 130dB:
Total Range: 30 to 130dB
Maximum Level: 130dB
Accuracy: ±1.5dB
Range Selections: 30 to 80dB, 50 to 100dB, 60 to 110dB, 80 to 130dB
Frequency Range: 31.5Hz to 8000Hz
Frequency Weighting: A and C
Time Weighting: FAST (125ms), SLOW (1 second)
Analogue Bar Graph: 30 ~ 130dB
Warning: Over-Range "OVER", Under-Range "UNDER"
AC: 0.707V RMS full scale
AC Output impedance: around 600 Ohm
DC: 2V RMS full scale, 10mV/dB
DC Output impedance: around 100 Ohm
Max/Min Mode: Yes
Data Hold: Yes
Display Backlight: Yes
Sleep Mode: Yes
Low Battery Display: 4.8V
Data Logging: 63 data sets
Power: 1.5V Battery (AA) x 4
LCD Size: 53 x 41mm
Product Weight: 330g
Product Size: 273 x 70 x 39mm
Package Includes:
1 x UNI-T UT352 Sound Level Meter
1 x User Manual
1 x Carrying Bag
Best Online Shopping website for UNI T Digital Sound Level Meter UT352 Noise Meter Best Decibel Audio Meter DB Meter in cheap price in Karachi, Lahore, Islamabad, Rawalpindi, Peshawar, Multan, Quetta, Faisalabad and all over Pakistan.
SKU:

TMD1,Th6,KRT

/
Category: Meters
/