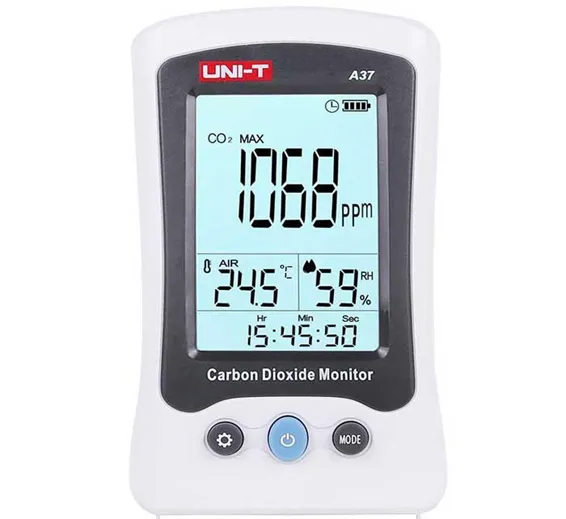 UNI T CO2 Carbon Dioxide Meter A37 is used to detect CO2 concentration in environments. This A37 handheld co2 meter has a large LCD which displays CO2 concentration being measured, temperature, humidity, and date/time together. With this portable co2 meter, air quality is indicated with emoticons. When CO2 concentration gets too high, audible and visual alarm will go off.
Features Of UNI-T A37 CO2 Monitor Thermometer Hygrometer Temperature Humidity Meter:
Automatic baseline correction
Audible and visual alarm
Low battery indication
Auto power off
Backlight
Specifications Of Carbon Dioxide Meter UNI-T A-37:
Carbon dioxide range: 400ppm~5000ppm
Carbon dioxide resolution: 1ppm
Carbon dioxide precision: ±5%rdg + 50ppm from 400ppm~2000ppm (at ambient temperature and humidity)
Relative humidity range: 0%RH~99%RH
Relative humidity resolution: 1%RH
Relative humidity precision: Typical accuracy: ±5%RH (10%RH~90%RH) at 25℃
Temperature range: -10.0℃~50.0℃
Temperature resolution: 0.1℃
Temperature precision: ±1℃
ABC:
Automatic baseline correction
Audible and visual alarm
: Yes
Sensor type: NDIR (no-dispersive infra) CO2 sensor
Response time: T90 < 2 minutes
Date/time: Display the date and time
Low power display: Low power symbol keep flashing
Auto power off
if no operation for a long time
Backlight
: The white backlight can be turned on/off.
Operating temperature: 0℃~50℃, 0%RH~85%RH
Storage temperature: -20℃~60℃, 0%RH~95%RH
Power: 3.7V DC Li-ion battery/ Micro USB charging port
LCD size: 42 x 65mm
Product colour: White
Product net weight: about 195g
Product size: 75 x 55 x 130mm
Package Includes:
1 x A37 CO2 Meter
1 x Micro USB Charging Cable
Best Online Shopping website for UNI T CO2 Carbon Dioxide Meter A37 Carbon Dioxide Detector Digital Pollution Meter Gas Temperature Humidity Meter Air Purity Meter Pollution Checker in cheap price in Karachi, Lahore, Islamabad, Rawalpindi, Peshawar, Multan, Quetta, Faisalabad and all over Pakistan.
SKU:

TMD,Th,KRT

/
Category: Meters
/