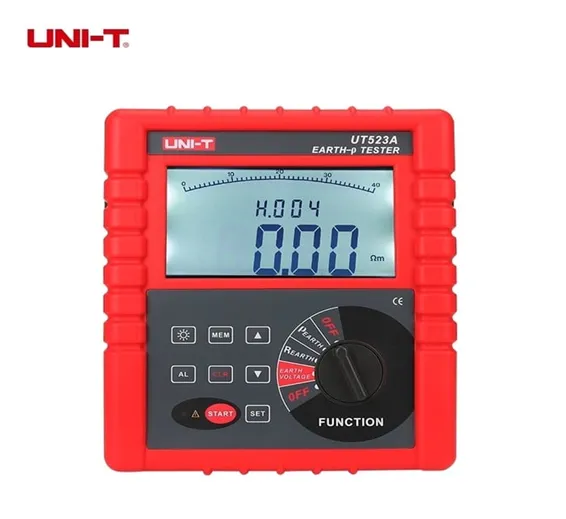 Other Meters
UNI T UT523A 4 Pole Soil Resistance Earth Tester Meter
SKU: TMD1,Th6,KRT
UNI T 4 Pole Soil Resistance Earth Tester Meter UT523A is specially designed and manufactured for measuring earth resistance, soil resistivity, earth voltage, AC voltage.UT-523A earth resistance meter, adopting the latest digital and micro-processing technology, precise 4-pole, 3-pole, and simple 2-pole method for earth resistance measurement, importing FFT and AFC technology. This earth resistivity meter with a unique function of anti-interference capability and the ability to adapt to the environment, consistency of repeat testing, to ensure high precision, high stability and reliability for the prolonged measure. This ground resistance meter is widely used in electric power, telecommunications, meteorology, oil field, construction, lightning protection, industrial electrical equipment and other earth resistance, soil resistivity, earth voltage, AC voltage measurement.
Features Of UNI-T UT523A Earth Resistance Voltage Soil Resistivity Tester Meter:
UT523A intelligent earth resistance tester is designed to measure earth resistance, soil resistivity, earth voltage, and AC voltage.
It used accurate 4-pole, 3-pole, and simple 2-pole methods to measure earth resistance.
Fast Fourier Transform(FFT) and Auto frequency control(AFC) are integrated into this tester.
So it has unique anti-interference capability and also is more reliable.
Specifications Of Uni-Trend Earth Ground Resistance Meter UT-523A:
Basic Functions
Range
Best Accuracy
Model
UT523A
Earth resistance
0.00Ω~19.99Ω
±(2%+5)
20.0Ω~199.9Ω
±(2%+5)
200Ω~1999Ω
±(2%+5)
2.00kΩ~19.99kΩ
±(2%+5)
20.0kΩ~210.0kΩ
±(2%+5)
Soil resistivity
0.00Ωm~99.99Ωm
Decided by measuring precision of R: (ρ=2πaR a:1 m~100m, π=3.141)
100.0Ωm~999.9Ωm
1000Ωm~9999Ωm
10.00kΩm~99.99kΩm
100.0kΩm~999.9kΩm
1000kΩm~9000kΩm
Earth voltage
AC 0.00~750V
±(2%+5)
Testing resistance
128Hz/111Hz/105Hz/94Hz(AFC)
√
Features
Measuring method
Earth resistance: rated current pole changing method with Max 20mA measuring current;
√
soil resistivity: quadrupole method (Wen-Na method );
earth voltage: average rectifier (between P(S) and ES interfaces)
Short-circuit testing current
AC 30mA max
√
Open-circuit testing voltage
AC 40V max
√
Auto range
√
Distance between electrodes
1m~200m can be set.
√
Testing voltage waveform
Sine wave
√
Line voltage
Measure when the voltage is below 750V AC
√
Low battery indicator
≤7.5V
√
Data hold
√
Alarm function
√
RS232 interface
√
Withstand voltage
AC 3700V/rms(between circuit and case)
√
LCD backlight
√
Data storage
300 groups
√
Auxiliary earth resistance test
0.00KΩ~30kΩ(100R+rC<50kΩ, 100R+rP<50kΩ)
√
Overload protection
Earth resistance measurement: input 280V AC between C(H) and E, P(S) and ES for 3s
√
Interference test
Auto identify interference signals, when interference voltage is higher than 5V, the symbole NOISE is displayed.
√
Measuring time(s)
More than 5000 times (perform short circuit test once, and again after 30s)
√
Insulation resistance
Above 20MΩ (500V between circuit and case)
√
General Characteristics
Power supply
DC 9V (6 Zinc-manganese dry batteries, R14S 1.5V; can continuously standby for 300hrs)
LCD size
128mm×75mm
Product color
Red and grey
Product weight
1443g (including batteries)
Product size
215mm×190mm×95mm
Standard accessories
Standard test lead, simple test lead, batteries, PC software CD, RS232 interface cable
Standard Individual Packing
Tool box, gift box, English manual, warranty card
Standard Quantity Per Carton
4pcs
Standard Carton Measurement
650mm×560mm×300mm
Standard Carton Cross Weight
30kg (including batteries)
Package Includes:
1 x UNI-T UT 523A 4 Pole Earth Tester.
Accessories: Standard testing Wire, Simple testing line, Software CD, RS232 Interface Cable, Toolbox, Manual.
Best Online Shopping website for UNI-T 4 Pole Soil Resistance Earth Tester Meter UT523A Best Earth Ground Meter Earthing Meter Earth Resistance Meter Digital Ground Tester at a cheap price in Karachi, Lahore, Islamabad, Rawalpindi, Peshawar, Multan, Quetta, Faisalabad, and all over Pakistan.