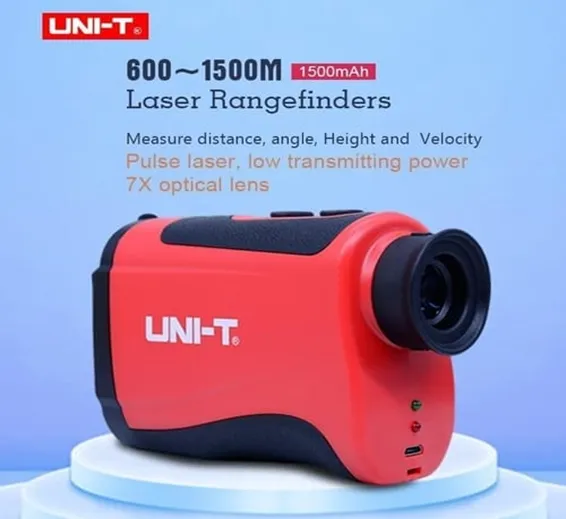 Other Meters
UNI T 1500M Laser Rangefinder Monocular Telescope LR1500
SKU: 1500MY61
UNI T 1500M Laser Rangefinder Monocular Telescope LR1500 allows accurate measurement of height, distance, and angle. UNI T 1500M rangefinder, the new speed measurement function uses a low-power pulsed laser that is safe for the eyes. The new and enhanced LR-1500 forestry laser rangefinder are excellent tools for a wide variety of applications such as engineering surveying, power line inspection, building construction, navigation, golf, and hunting.
Features of UNI T 1500M Laser Rangefinder Monocular Telescope LR1500:
LR series ranging telescope, UNI-T first built-in lithium-powered, drop-in lithium battery long standby time, the use of long cycle, high-security Integrated telescope.
Metering range and angle measurement function, the measurement accuracy of plus or minus 1Y, silent operation.
The automatic power-off system uses a pulsed laser, emitting low-power, eye-safe, diopter adjustment function, waterproof, and dustproof grade 2.
They are ergonomically designed with high accuracy for a wide range of applications from leisure to professional including hunting, sailing, large-scale hauling.
large area surveying, and more. Its built-in rechargeable Lithium battery assures long operation runtime. The 7x optical zoom design can measure distance, angle, and calculate Pythagore.
Measures distance and angle
Silent operation and auto power off
Pulse laser, low transmitting power, harmless to eyes
Built-in Li-ion battery, long standby, and operation time
Compact, portable and ergonomic design
Adjustable focus
The high-grade grain drying durable easy to wear long service life, surface appearance, and upscale. Plating high definition HD lens
High-performance optics produce high-definition images in soft conditions can also see a clear image
6 optical observation system, advanced laser technology to measure more accurate, sophisticated technology, instant accurate measurement, the error of plus or minus up to 1m.
Widely used: hunting, forestry mapping nautical power industry to explore the ruins of golf course construction in the field of outdoor exploration survey of animal investigation.
Specifications of UNI T 1500M Range Distance Laser Meter LR-1500:
Distance range: 5~1500yd
Accuracy: ±1yd ± DX 0.2%
Magnification: 7X
Objective calibre: 25mm
Height: 600yd
Height error: ±0.5yd
Velocity range: 0-300km/h
Angle: ±45°
Angle error: ±1°
Pulse laser: Harmless to eyes
Fast distance measurement/LCD display: Yes
Silent operation: Auto power off the system
Power: 3.7V Li-ion battery 1500mAh
Product colour: Red and grey
Product net weight: 230g
Product size: 114mm x 76mm x 48mm
Standard carton measurement: 350mm x 315mm x 112mm
Standard carton gross weight: 2.94kg
Package Includes:
1 x UNI T 1500M Laser Rangefinder Monocular Telescope LR1500
Best Online Shopping website for UNI T 1500M Laser Rangefinder Monocular Telescope LR1500 Range Distance Meter LR-1500 Best Golf Rangefinder Optical Distance Meter Cheap Rangefinder Best Long Rangefinder in cheap price in Karachi, Lahore, Islamabad, Rawalpindi, Sukkur, Peshawar, Multan, Quetta, Faisalabad and all over Pakistan.
SKU:

1500MY61

/
Category: Meters
/