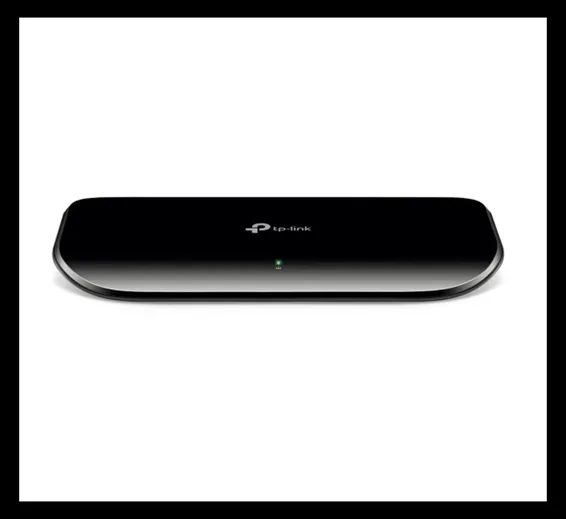 Router
TP LINK SG1008D 8 Port Gigabit Ethernet Network Switch in Pakistan
SKU: RAWLIXTP
The TP-Link 8-Port Gigabit desktop switch TL-SG1008D provides you an easy way to make the transition to Gigabit Ethernet. Increase the speed of your network server and backbone connections, or make Gigabit to the desktop a reality. Moreover, TL-SG1008D adopts lower power consumption design. With the innovative energy-efficient technology, the TL-SG1008D can save up to 80%* of the power consumption, making it an eco-friendly solution for your home or office network.
Features:
PLUG-AND-PLAY - Easy setup with no configuration or no software needed
ETHERNET SPLITTER - Connectivity to your router or modem for additional wired connections (laptop, gaming console, printer, etc)
8 Ports GIGABIT ETHERNET - 8 10/100/1000 Mbps Gigabit auto-negotiation RJ45 ports greatly expand network capacity
COST-EFFECTIVE - Fanless Quiet Design, Desktop design
RELIABLE - IEEE 802.3x flow control provides reliable data transfer
UP to 80% Power Saving - Automatically adjusts power consumption according to the link status and cable length
AUTO-NEGOTIATION - Supports Auto-MDI/MDIX, eliminating the need for crossover cables
Gigabit Switch
Featured with 8 10/100/1000Mbps ports, TL-SG1008D greatly expands your network capacity, enabling instant large files transferring. So, power users in the home, office, workgroup, or creative production environment can now move large, bandwidth-intensive files faster. Transfer graphics, CGI, CAD, or multimedia files across the network instantly.
Gigabit Ports For Faster Speeds
Increase the speed of your network with the TL-SG1008D 8-port Gigabit desktop switch. Non-blocking, 8 10/100/1000Mbps ports enable instant transferring of large, bandwidth-intensive files without interference
Plug and Play
The auto features of this gigabit switch make installation plug and play and hassle-free. No configuring is required. Auto MDI/MDIX eliminates the need for crossover cables. Auto-negotiation on each port senses the link speed of a network device and intelligently adjusts for compatibility and optimal performance.
Go Green with Your Ethernet
Have the choice to go green when upgrading to a gigabit network. This new generation TL-SG1008D 8-Port Gigabit Desktop Switch features the innovative energy-efficient technologies that can greatly expand your network capacity with much less power.
Faster Network Response Times
The non-blocking switching architecture adopted in the Five-Port Unmanaged Gigabit Desktop Switch greatly improves network response times and significantly speeds up the traffic between subnets by forwarding and filtering packets at full wire-speed for maximum throughput.
Package Include:
1XTP LINK SG1008D 8 Port Gigabit Ethernet Network Switch