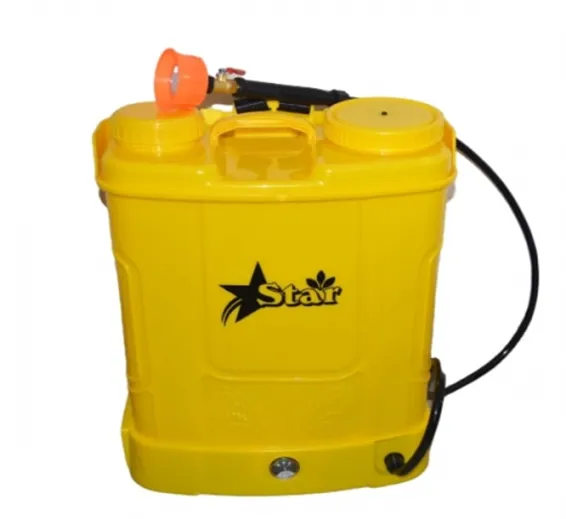 This 20L Knapsack battery sprayer AP-20B has 12Ah built-in battery, you can use this sprayer without electricity wire. This rechargeable battery sprayer can be used continuously for about 5-6 hours without any difficulty after being fully charged. AP20B best garden sprayer is for uses with liquids and water-soluble solutions like herbicides, insecticides, fungicides and also for disinfection from coronavirus. This battery-operated agricultural sprayer is easy to use and made from high-quality material at an affordable price.
Features Of Knapsack Battery Operated Spray Machine Pump:
The electric sprayer using 12Ah high-quality lithium battery can be used continuously for about 5-6 hours after being fully charged.
The design of back cushions and comfortable shoulder straps makes carrying easier, and it will not be tired even if you use it for a long time.
20L large-capacity electric sprayer can fill a large amount of water or solution at one time to improve spraying efficiency.
With a protection board inside, it is safer to protect the battery from over-discharge, over-charge and short-circuit protection.
The electric sprayer is suitable for plant irrigation, car cleaning, home cleaning, disinfection and germicidal lamps.
Specifications Of 20L Agriculture Spray Machine With Battery:
Model: AP-20B-12Ah
Capacity: 20L
Gross Weight: 7kgs
Normal pressure: 0.15-0.4Mpa
Battery: 12V12AH
Packing dimension: 38*22*50CM
Package Includes:
1 x 20L Knapsack Battery Sprayer 12Ah AP-20B
1 x Pump Motor
1 x Battery
1 x Charger
Best Online Shopping website for 20L Knapsack Battery Sprayer 12Ah AP-20B Garden Sprayer Charging Sprayer Agricultural Sprayer Rechargeable Spray Pump in cheap price in Karachi, Lahore, Islamabad, Rawalpindi, Sukkur, Peshawar, Multan, Quetta, Faisalabad and all over Pakistan.