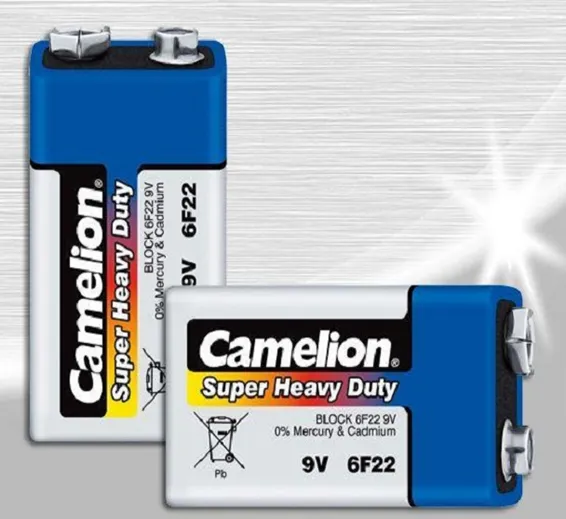 This is General purpose 9V Non-Rechargeable Battery for all your project and application needs. As we experienced the use of this battery in our testing lab for various purposes, we can assure you the best quality, long life and genuineness of this battery among all options available in the market at this cost. With its Universal 9V battery size and connecting points, it can be used in many DIY projects as well as household applications and they can easily be replaced and installed, the same as you would an AA battery or an AAA battery.
Whether you need a new battery for your applications like a Flashlight, Portable Phone Charger, Wireless doorbell, Wireless audio transmitter-receiver systems or your kid's toys, etc. or even if you are looking for a long-lasting, reliable option for your sensor devices like a smoke detector, everyone needs a good 9-volt battery every once in a while. It's also a great idea to keep an extra 9 volt batteries around in case of an emergency. That's why we've found one of the best 9-volt batteries available.
Safety Precautions :
Avoid short-Circuit the battery terminals.
Do n0t put it beside the high-temperature condition.
Don't throw it into the fire or water after use
Features:
Constant 9V Output till lasts
Metal Jacket Body
Good Built Quality and hence Leakproof
Easy to install and Replace
Corrosion-free Connector Point for long-term use
0% Mercury and Cadmium. Environment-friendly
OEM Compatible.
Package Includes:
1 x 9V Original Camelion Battery-5Pcs.
Technical Data
Int. Frame size to IEC 6F22 Frame size 9V Dimensions (L x B x H mm) 26,2 x 17,2 x 48,3 Weight (g) 36,4 Electrochemical System
Zinc manganese dioxide/
Zinc/ammonium chloride Nominal Capacity 450mAh to 4,8V
(20° ± 2° C rated capacity at 25mA
continuous drain) Nominal Voltage 9V Jacket Metall