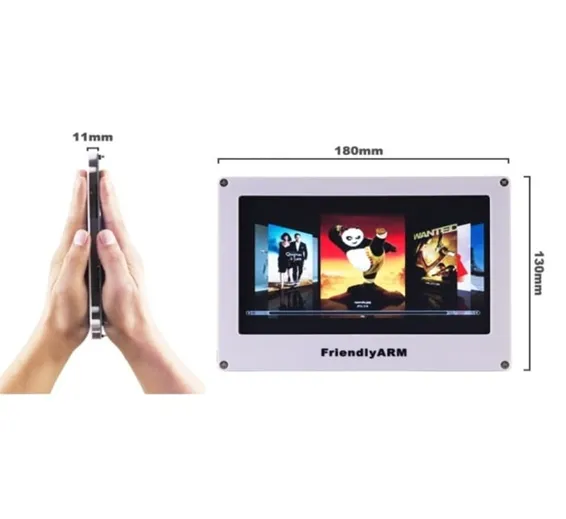 LCD Display
Resistive Touch 7 Inch Color LCD 800x480 A70i
SKU: B413
A70i-1501-7 inch(seven inches) Rough Service Resistive Touch LCD.The FriendlyELEC (FriendlyARM) Robust 7 inch Display. 800x480 color and fast RGB interface. The A70i has an Innolux LCD panel backed by a full-size PCB for added strength and mounting rigidity. This is our toughest display for mounting with a bezel in a cutout. Versions work with our Mini / Tiny / Micro products that use, Superboot, and U-boot (as well as WinCE 5 and 6).
A touch panel is replaceable
! Lower replacement costs in rough use areas.
The touch panel is a separate piece and can be replaced with a nut driver
Features Of 7-Inches Resistive Touch Color Screen:
7 Inches display 800x480
Innolux LCD Panel backed by a full-size PCB
Comes with added strength and Mounting rigidity
A touch panel is replaceable
Stable and Much Quicker Response Times
Wide Viewing Angles
High Transmittance
Better Colour Reproduction and Representation
The touch panel is a separate piece and can be replaced with a nut driver
Specifications Of A70i Rough Service Resistive Touch LCD:
Resolution: 800 x 480
Interface: Fast RGB interface
LCD: Innolux LCD Panel
Version Compatibility: Mini / Tiny / Micro products that use, Superboot, and U-boot (as well as WinCE 5 and 6)
Backlight: LED
Dimension: 180mmx130mmx11mm
LCD Interface Schematic
Package Include:
1 x A70i 7 Inch Resistive Touch 800x480 Color LCD
1 x DB9 Computer Screen Cable
1 x 1.5m Ethernet Cable
1 x USB Type-A to Type Mini B Cable
1 x Power Adapter
1 x Stylus
Best online shopping website for Resistive Touch 7 Inch Color LCD Touch Screen Pannel 800x480 A70i in cheap price in Lahore Islamabad Karachi Faislabad Gujranwala Sukkur Quetta Peshawar Rawalpindi Multan and all over Pakistan