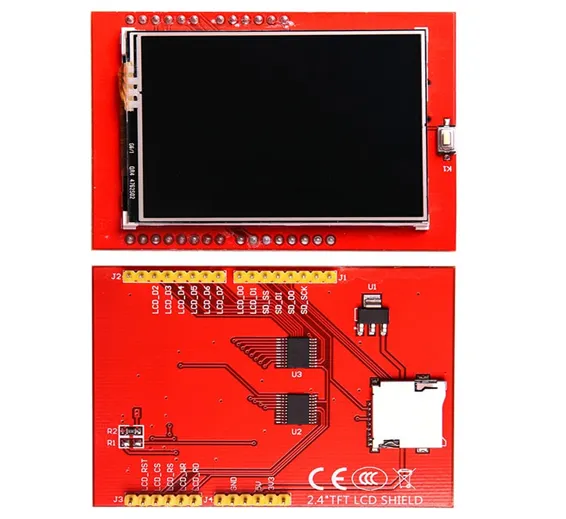 SKU: B317,D77,IMP50,Th20,KRT115,N48
The 2.4 inch TFT LCD Shield Touch Screen Module For Arduino is a beautiful large touchscreen display shield with built-in microSD card connection. The 2.4 inch TFT LCD display screen has excellent vivid colour contrast. This Arduino Uno TFT display is big (2.4″ diagonal) bright (4 white-LED backlights) and colourful (18-bit 262,000 different shades). 240×320 pixels with individual pixel control. TFT LCD Arduino Uno has way more resolution than a black and white 128×64 display. As a bonus, this display has a resistive touchscreen attached to it already, so you can detect finger presses anywhere on the screen.
Features Of Arduino Uno 2.4 inch TFT LCD Shield:
2.4 inch LCD TFT display
Bright, 4 white-LED backlights, on by default but you can connect the transistor to a digital pin for backlight control
Colorful, 18-bit 262,000 different shades
4-wire resistive touchscreen
Spfd5408 controller with built-in video RAM buffer
8-bit digital interface, plus 4 control lines
Uses digital pins 5-13 and analogue 0-3. That means you can use digital pins 2, 3 and analogue 4 and 5. Pin 12 is available if not using the micro SD
Specifications Of Arduino Uno Touch Screen:
240*320 pixels resolution
5v supply voltage
5V compatible, use with 3.3V or 5V logic
Size: 71 x 52 x 7mm
Arduino pins 2, 3, A5, and A4 are free and you can use them to connect this shield.
How To Use:
As with all Arduino Shields, connecting to the Arduino is simply a matter of plugging the shield in. Take care to align the pins correctly, and ensure the bottom of the shield does not make contact with the Arduino USB port.
Package Includes:
1 x 2.4" TFT LCH Shield For Arduino Uno
Downloads:
SPFD5408 LCD Controller Datasheet
Mcufriend 2.4″ LCD TFT libraries and avoid white screen setup
SKU:

B317,D77,IMP50,Th20,KRT115,N48

/
Category: Displays
/