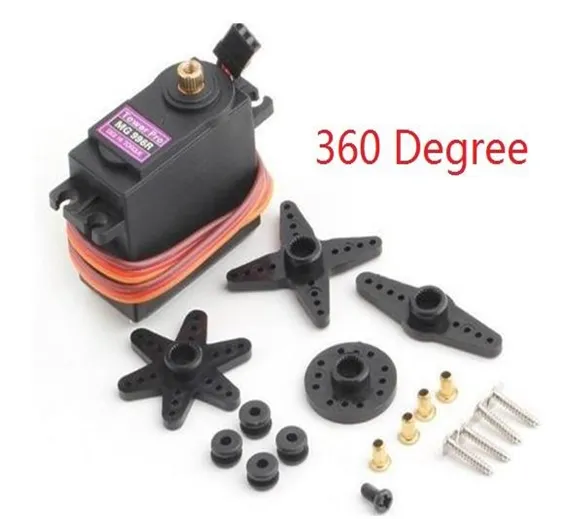 Toy Motors
MG996R Metal Gear Servo Motor 360 Degree MG946 Servo Motor For Arduino
SKU: B 137,,D180,LM10,OQ30,IMP50,Th20,KRT,N98
MG996R Metal Gear Servo Motor MG946 Servo Motor For Arduino is equipped with very good quality DC motor and a thicker connection cable than other servo motors that we sell, hence we are selling it as a Good Quality Servo Motor. It has metal gears which makes it robust and reliable motor. These MG995 TowerPro Servo Motors are the high-speed servo motors with the mighty torque of 13 kg/cm.
They are compatible with all the applications that use the genuine TowerPro MG995 Servo Motor because of their same size, comparable quality, and optimized performance. This pack contains TowerPro MG995 Servo High-Speed Digital Metal Gear Servo Motor with CNC Aluminum Steering Servo Horn Arm. The Aluminum Steering Servo Horn Arm is having good strength and ready for your high power application. This is 25 teeth horn which has an overall length of 30mm with 2mm thickness.
The optimized performance and reliability of this servo have made it the favorite choice of many RC hobbyists.The TowerPro MG995 High-Speed Digital Servo Motor rotates 90° in each direction making it 180° servo motor. It is a Digital Servo Motor which receives and processes PWM signal faster and better. It equips sophisticated internal circuitry that provides good torque, holding power, and faster updates in response to external forces.
They are packed within a tight sturdy plastic case which makes them water and dust resistant which is a very useful feature in RC planes, Boats, and RC Monster Trucks etc. It equips 3-wire JR servo plug which is compatible with Futaba connectors too.
Wire Description
RED – Positive
Brown – Negative
Orange – Signal
NOTE :
This servo draws high current while operation (up to 2 amp stall), to make this servo work with Arduino or any other microcontroller, please do following connections.
PLEASE MAKE SURE THAT YOUR SYSTEM HAS COMMON GROUND.
POWER SOURCE ANYTHING BATTERY/SMPS/ADAPTER.
Features :
The connection cable is thicker.
Equips high-quality motor.
High resolution
Accurate positioning
Fast control response
Constant torque throughout the servo travel range
Excellent holding power
Package Includes :
1 x TowerPro MG995 High-Speed Servo Motor with Cable
Set of Horns
One Point
Two Point
Four Point
SKU:

B 137,,D180,LM10,OQ30,IMP50,Th20,KRT,N98

/
Category: Robotics
/