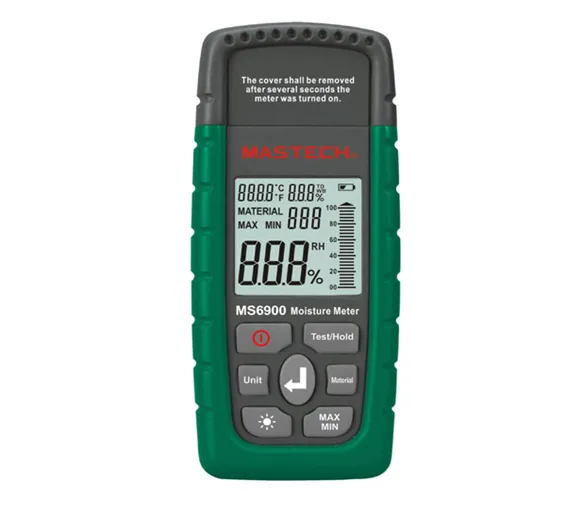 Mastech Wood Moisture Meter Hygrometer MS6900 is a versatile instrument tor measuring material moisture, ambient temperature and humidity. This MS-6900 wood moisture tester often used to measure moisture content and air humidity in wood or building materials. This timber moisture meter has 21/2 digit LCD display, maximum reading 199 Mastecn MS6900 is material moisture: temperature, humidity all-in-one multi functions meter. The wood moisture detector is ideal for measuring moisture to wood and concrete buildings.
Features Of Portable Digital Wood Moisture Temperature Humidity Tester Detector MS 6900:
Provide temperature, humidity and moisture measuring
Measure seven kinds of materials through manual mode
Maximum and minimum values inquiry function
Moisture measurement hold function
LCD Display, moisture bar display
Units switch
Backlight display
Battery low voltage display
Auto power off after 10 minutes without no key pressed
Specifications Of Professional Wood Moisture Meter MASTECH MS-6900:
Electric Conductivity (Resistance Sensor) Range: 0.0~60.0%;
Temperature (Temperature Sensor) Range: -10~50C (14~122F)
Material Moisture: %
Environment Humidity: %,WB,TD
Environment Temperature: C, F
Material Moisture Range 1: Beech, Spruce, Larch, Birch, Cherry, Walnut 8.5~60.0%
Material Moisture Range 2: Oak, Cedar, Maple, Ash Tree, Citigroup, Tamarisk 6.8~53.4%
Material Moisture Range 3: Smoothing Cement, Concrete 0.9~24.5%
Material Moisture Range 4: Anhydrite Screed 0.0~12.2%
Material Moisture Range 5: Cement Mortar 0.7~9.2%
Material Moisture Range 6: Lime Mortar, Plaster 0.5~11.1%
Material Moisture Range 7: Brick 0.0~17.8%
Resolution: Material Moisture:0.1%, Temperature : 0.1C,0.1F, Humidity: 0.1%
Accuracy (perform under the temperature of 25C): Conductivity:2%, Temperature:2C(-10C~+50C), Humidity:5%(10~90%)
Material Moisture Sample Speed: 240ms, LCD refresh time: 1.5s
Temperature Sample Speed: 240ms, LCD refresh time 1.5s
Humidity Sample Speed: 240ms; LCD refresh time 3.5s
Operation Temperature: -10~50C(14~122F )
Storage Temperature: -40~60C(-40~140F)
Batteries: 2 x 1.5V AAA(Not Included)
Size: 130x55x29mm
Weight:140g
Package Includes:
1 x MASTECH MS6900 Moisture & Temperature Detector
1 x Carry Bag
1 x User Manual
Best Online Shopping website for UNI T Wood Moisture Meter UT377A Best Professional Wood Moisture Tester Hygrometer Humidity Meter Wood Humidity Tester Wood Moisture Humidity Detector Moisture Gauge For Wood in cheap price in Karachi, Lahore, Islamabad, Rawalpindi, Sukkur, Peshawar, Multan, Quetta, Faisalabad and all Pakistan.
SKU:

RAWLIXMas

/
Category: Meters
/