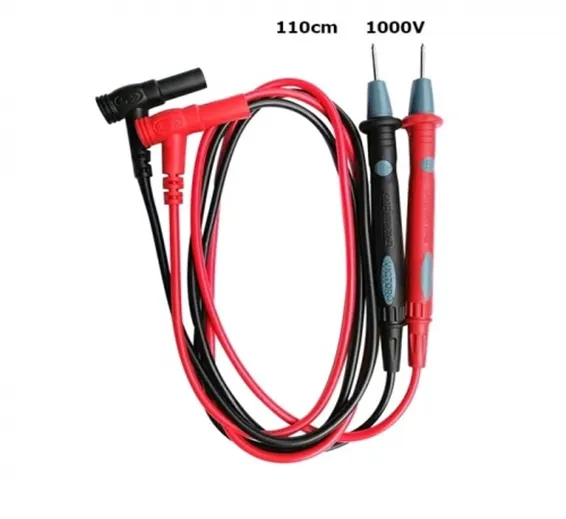 General Type Meter Test Probe HC98 Lead is made of material PVC, gold-plate cable needle. These HC 98 best meter probes are the quality cables, also called probes or meter test leads. These electrical test leads are heat-resistant and cold-resistant test probes are insulated and provide a comfortable grip. These leads are designed for industrial, electrical work, and electronic needs.
Features Of Best DMM Electrical Multimeter Probe Test Lead HC 98:
Professional Test Maximum Voltage: 1000V.
Easy to read: "+" & "-" signs near probes.
With soft shrouded, it is comfortable to grip.
Universal multi-meter plug, convenient to use.
The pointy tip is suitable for measuring thin pins and other precision components.
It is one of the useful tools that will bring a lot of convenience for your electronic work.
Red: positive Black: negative.
Total length:110cm.
Specifications Of HC98 General Type Test Leads Applies To Most Multimeter:
Rate: Cat. III 1000V Max
Cable Length: 110cm
Protection: Protective caps for probe tips
Package Includes:
Best Online Shopping website for General Type Meter Test Lead Probe HC98 Best Digital Multimeter Test Leads Multimeter Cables Voltmeter Leads Multimeter Extension Leads Avo Meter Leads in cheap price in Karachi, Lahore, Islamabad, Rawalpindi, Sukkur, Peshawar, Multan, Quetta, Faisalabad and all over Pakistan.
SKU:

RAWLIXGen

/
Category: Meters
/