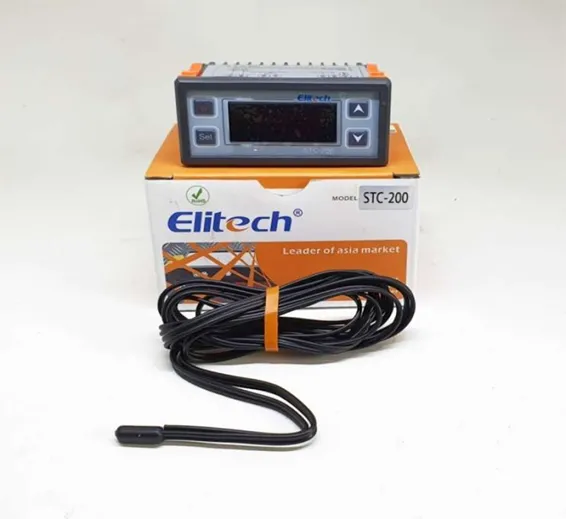 Suitable for all kinds of high-temperature cold storage, direct cooling cabinet, water chiller, seafood machine, and some small heating equipment, etc.
Elitech STC 200 Digital Temperature Controller Features:
Refrigerating, heating, alarming modes optional
Return difference to control the temperature
User menu and administrator menu setting separately
Temperature upper and lower limits setting, in order to avoid micro-operation by non-professionals.
Main Function:
Refrigeration, Heating, Alarm 1NTC, Temperature Calibration
Specification:
Power supply: 220VAC±10%, 50/60HZ (12VAC/VDC, optional
Temperature measuring range: -40~+99℃
Temperature controlling range: -40~+70℃
Resolution: 1
Accuracy: ±1℃
Compressor output contact capacity: 7A/220VAC
Sensor type: NTC, 2M
Alarming: buzzer or alarm relay
Shell: gray ABS flame retardant material
Safety level: IP54 (front panel)
rawlix.com is the Best Online shopping website STC 200 Digital Temperature Controller Elitech. Here you get STC 200 Digital Temperature Controller Elitech at a reasonable price in Karachi, Lahore, Islamabad, Rawalpindi, Peshawar, Quetta, Multan, and all over Pakistan.
Package Include:
1 x STC 200 Digital Temperature Controller Elitech