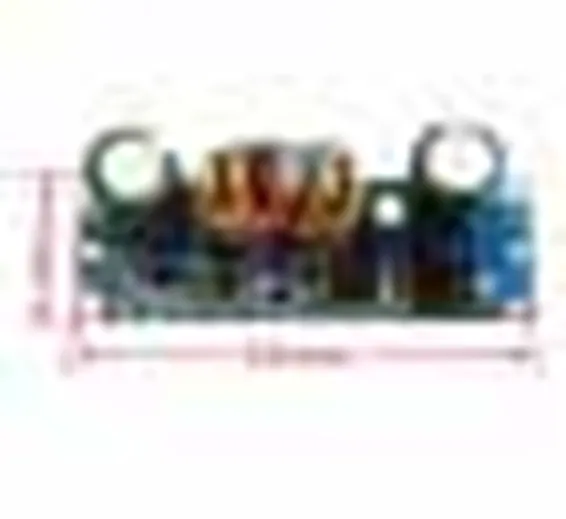 Other Modules
DC-DC 5.5-30V To 0.5-30V Adjustable Automatic Step-Up Down Power Supply Module 4A
SKU: SKU: B394,IMP20,TH5,KRT
DC-DC 5.5-30V To 0.5-30V Adjustable Automatic Step-Up Down Power Supply Module 4A:
Introduction:
4A BUCK and BOOST modules (constant voltage version)
Wide voltage input 5.5-30V, wide voltage output 0.5-30V, both boost can also buck, such as you adjust the output voltage of 18V, then the input voltage between 5.5-30V casually change, will be constant output 18V; then For example, you enter 12V, adjust the potentiometer settings 0.5-30V arbitrary output.
High power, high efficiency, better performance than XL6009 / LM2577 program. Using external 60V75A high power MOS, parallel high current high withstand voltage Schottky diode SS56. Not 6009 or 2577 program SS34 can be compared, because according to the principle of step-up and down, MOS and Schottky's pressure is greater than the sum of the input and output voltage. Iron silico aluminum magnetic ring inductance, high efficiency.
Product parameters:
Input voltage: 5.5 -30V
Output voltage: 0.5-30V
Output current: to long-term stability in the 3A, to strengthen the heat can reach 4A
Output power: natural heat 30W, to strengthen the heat 50W
Conversion efficiency: 88% or so
Short circuit protection: Yes
Operating frequency: 180KHZ
Size:56 * 20 * 21mm (L * W * H)
Precautions:
This module is a constant pressure type, is not recommended for battery charging or LED drive
Make sure that the power of the power supply is always greater than the power required for the output load!
Module input No input anti-reverse function, please pay attention to the direction of power supply positive and negative.
Input voltage to 7V or more, the module can the maximum power output. When the input voltage is 5.5V, the output power is about 15W.
Module with output short circuit protection, short circuit protection module automatically shut down the output, to re-power the module can be restored, if your power supply without output current limit protection, it is recommended in the module input front-end fuse, improve safety factor.
The module has input undervoltage protection function, the default is about 5V, below this value, it will automatically disconnect the output, to re-power the module can be restored (note that the module port voltage, when the input current is relatively large , Do not ignore the input voltage on the wire).
Package Included:
1 x DC-DC 5.5 -30V To 0.5-30V Step-Up Down Module