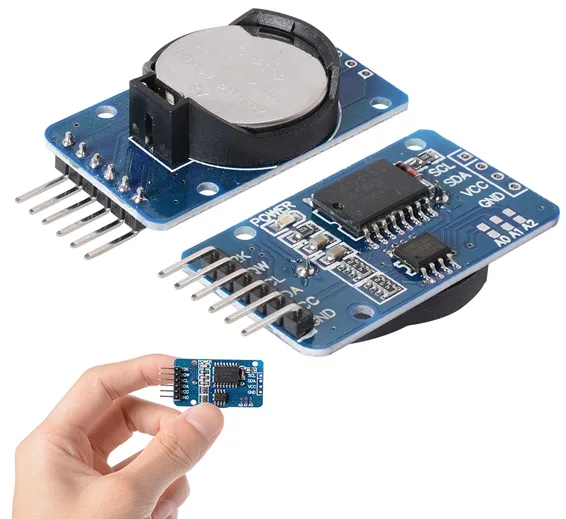 Other Modules
DS3231 Precision RTC Real Time Clock Module In Pakistan
SKU: B99,D207,IMP100,Th30,KRT04+524,N13
High Accuracy DS3231 Precise Real Time Clock Module with 32Kbit EEPROM and a built-in 10-bit temperature sensor having a resolution of 0.25C.The DS3231 Precise Real Time Clock Module is a low-cost, extremely accurate I²C real-time clock (RTC) with an integrated temperature-compensated crystal oscillator (TCXO) and crystal. The device incorporates a battery input and maintains accurate timekeeping when main power to the device is interrupted. The integration of the crystal resonator enhances the long-term accuracy of the device as well as reduces the piece-part count in a manufacturing line. The DS3231 is available in commercial and industrial temperature ranges and is offered in a 16-pin, 300-mil SO package.
Features:
DS3231 based RTC with 2032 Battery Holder.
Highly Accurate RTC Completely Manages All Timekeeping Functions.
Real-Time Clock Counts Seconds, Minutes, Hours, Date of the Month, Month, Day of the Week, and Year, with Leap-Year Compensation Valid Up to 2100.
Digital Temp Sensor Output.
Register for Aging Trim.
Configurable I2C device Address for AT24C32 using SMD jumpers on PCB (A0, A1, A2).
Two Time-of-Day Alarms.
Programmable Square-Wave Output Signal.
Battery-Backup Input for Continuous Timekeeping.
Low Power Operation Extends Battery-Backup Run Time.
3.3V Operation.
Package Includes :
1 x DS3231 Precise Real Time Clock Module Memory Module