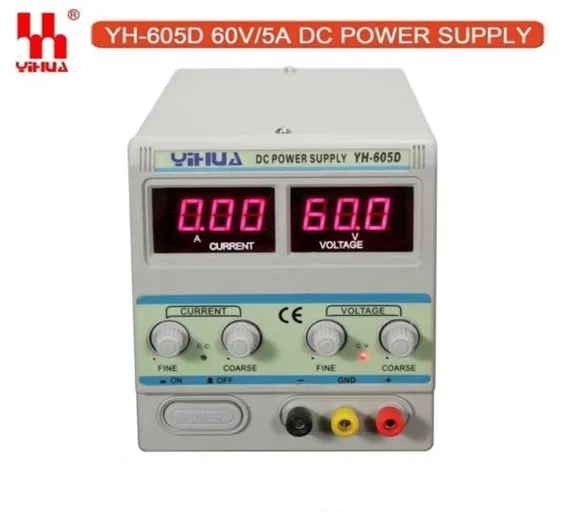 YIHUA DC Power Supply YH605D is a single line output of stabilized high accuracy DC stabilized power supply. YH-605D 60V 5A digital precision DC power supply, the output voltage and current can be adjusted continuously within the rated range. This dc voltage supply has a double digital display which shows the output voltage and current independently. This adjustable power supply has several protection functions include current limitation, voltage reduction, short circuit protection, over-temperature protection, etc. YH-605D best high voltage power supply, the design is applied to the production line of the plant, maintenance, laboratories and is also a necessary device for the communication industry.
Features Of YIHUA YH 605D DC Power Supply:
Adjustable 0 ~ 60V / 0 ~ 5A.
Using laptop repair, mobile phone and so on.
LED shows the temperature accuracy.
Handle in the picture is NOT included this time. With Dual LED 3-digit Displays.
Designed for electronics product development and production, laboratory and university researches and mobile computer repair, etc.
This DC Power Supply features a very high quality continuously variable voltage 0-60V.
Input power: AC 110V, 50Hz/60Hz.
Specifications Of YIHUA Best DC Power Supply 60V 5A YH-605D:
The input power supply: we can do 110V, 220V, 230V, 240V AC
Output voltage: 0-60 V DC
Work temperature: -10oC-40oC
Empty carry to the exhaust: <0.25 W
Output Voltage: 0-60 V (Adjustable)
Output Current: 0-5A (Adjustable)
Working Conditions Temperature: -10-40Degrees Celsius Relative Humidity: 90%
Storage Conditions Temperature: -10-40Degrees Celsius Relative Humidity: 80%
Voltage Stability Constant Voltage Operation: ≤ 01% mv
Load stability: ≤ 01% mv
Recovery time: ≤ 100us
Curly and noise: ≤ $ terms (effective value)
Temperature coefficient: ≤ 200PPM / ° C
Constant Current stability operation: ≤ 1% ma
Load stability: ≤ 2% ma
Curly and noise: ≤ 2marms (effective value)
Precision Voltage 3-digit LED display: ± 1% ± 1 word
Current 3-digit LED Precision Screen: ± 1% ± 1 word
Dimensions: 255 × 130 × 150 (mm)
Weight: 5.8Kg.
Package Includes:
1x YH-605D DC Power Supply
2 x Test cables
1 x Power cord
1 x User's manual
Best Online Shopping Website for Bench Type DC Power Supply YH605D High Voltage Power Supply Adjustable Laboratory Power Supply in cheap price in Karachi, Lahore, Islamabad, Rawalpindi, Sukkur, Peshawar, Multan, Quetta, Faisalabad and all over Pakistan.