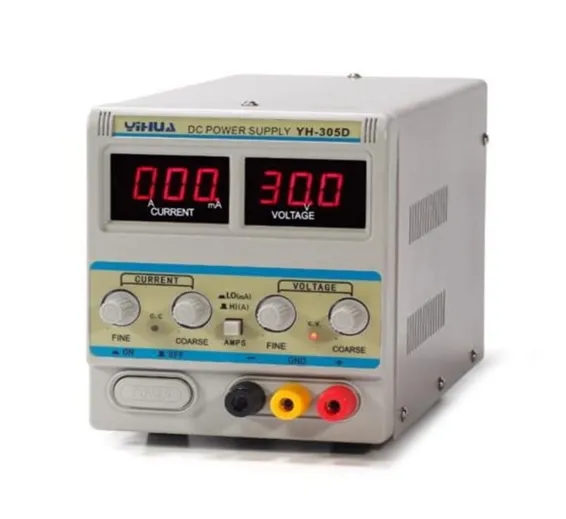 Power Supply
YIHUA YH305D Adjustable Variable DC Power Supply
SKU: TMD,Th,KRT
YIHUA DC Power Supply YH305D is special needs the design for the handset and each kind of correspondence instrumentation equipment service. This YH305D dc voltage power supply uses the most advanced short circuit protection self-recovery electric circuit. YH 305D high voltage dc power supply, the high-speed overflow protection starts, and belt intelligence acousto-optics warning. After the short circuit protection self-recovery treats the unsporting in one second the self-recovery output.
Features Of YH305D Digital LED DC Power Supply Precision Variable Adjustable 30V 5A:
This model has a compact design with all-metal construction.
Featuring a Dual LED three digital tube display with a highly accurate LED digital readout.
Maximum output is 30V at 5A.
High stabilized output voltage.
Current mA / A conversion display.
Short circuit protection.
Overloading and current protection.
CE Approved.
220-240V/AC With UK Plug.
Specifications Of Lab Variable DC Power Supply YIHUA YH305D:
Supply power: AC 220-240V, 50Hz/60Hz. Specially designed for the UK and EU.
Working temperature: -10~40°C
Relative Humidity: <90%
Storage Conditions: -10~40°C
Relative Humidity: <80%
Stable Voltage: Yes
Output voltage between 0 and nominal value continuously adjustable
Voltage Stability: ≤0.01% +2mV
Load Stability: ≤ 0.01% +2mV
Recovery Time: ≤100µS
Ripple Noise: ≤1 MVRMS(RMS)
Temperature Coefficient: ≤ 200PPM/°C
Stable Current: Yes
Output current between 0 and nominal value continuously adjustable
Power Stability: 0.1% + 3mA
Load Stability: 0.2% + 3mA
Ripple Noise: ≤2mArms(RMS)
Product weight:4.6kg/pc
Size:13*25.5*15cm
Package Included:
1x DC Power Supply
1x DC Cable Output Probe
1x Manual
Best Online Shopping website for Adjustable Variable DC Power Supply YH305D YIHUA High Voltage Power Supply Adjustable Laboratory Power Supply in cheap price in Karachi, Lahore, Islamabad, Rawalpindi, Sukkur, Peshawar, Multan, Quetta, Faisalabad, and all over Pakistan.