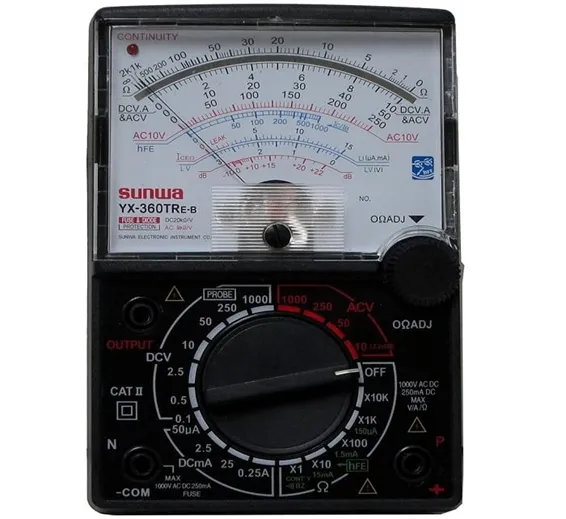 The YX-360TRE-B is an analogue multimeter, you can use it to measure AC/DC voltage, DC current, resistance, diode check, continuity. This YX360TREB analog meter can also measure transistor leak current, for DC current. This voltmeter analog dc can measure as low as 10 microamps and up to 250 mA, which is hard to do with a digital multimeter.
Features Of Handheld YX-360TRE-B Analog Meter Voltmeter:
High accuracy analogue multimeter for general purposes.
Mirrored needle indicator with an accurate reading.
Check both AC and DC parameters with continuity buzzer on Ohms.
Up to 1000V on both AC and DC Voltage.
19 versatile ranges for general-purpose testing.
Fuse & Diode protection.
Compact sizing.
Tilt back-stand.
The large and mirrored scale of 80mm length.
Specifications Of Best Analog Multimeter YX-360-TRE-B:
DCV: 0 - 0.1V ±1% 0.25V/2.5/10V/50­V/250/1000 ±3%
ACV: 0 -10/50/250/1000V­ ±4%
DCA: 0 - 50µA/2.5mA/25mA/­250mA ±3%
Resistance: 0 - 2K/20K/200K/2M/2­0Mohm ±3%
dB: -10 dB - 22 dB
Diode check out (including LED)
Continuity: the one and the other Buzzer
DC/AC sensitivity: 20kOhm
Battery: AA (not included)
Dimensions: 7.7 x 3.6 x 2.2 inches
Net Weight: approx. 12 ounces
Package Includes:
1 x Multimeter YX360 TreB
2 x Probes
Best Online Shopping website for 8 Function 19 Range Analog Multimeter YX360-TRE-B Energy Analog Meter Analog Tester Voltmeter in cheap price in Karachi, Lahore, Islamabad, Rawalpindi, Sukkur, Peshawar, Multan, Quetta, Faisalabad and all over Pakistan.
SKU:

,TMD,Th,KRT

/
Category: Meters
/