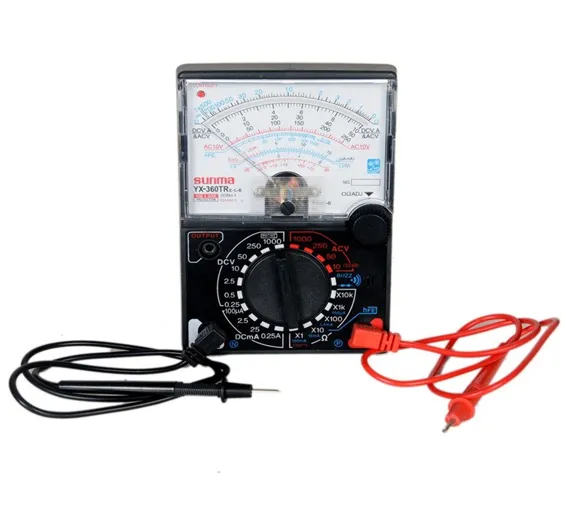 This YX360TR handheld analog multimeter Measures AC&DC voltage, DC current, resistance, AF level, transistor parameter, load current. This YX-360TR ampere meter dc analog also measures load voltage, capacitance, inductance Excellent DC resolution factor of 2mV and expanded resistance measurement from 0.2Ω to 20MΩ Series capacitor terminal (OUTPUT) blocks DC to enable measurement of only AC components. This energy meter analog has a large and bright meteor with a scale length of 80mm and ifs sensitivity of 44uA at full-scale. YX360TR analog avo meter has a fuse and diode protection features.
Features Of YX-360TR Analog Multimeter Electrical Meter Multitester:
Fuse & Diode Protection
18 Ranges
Use Two "AA" (1.5V) and One 9V Battery (NOT included)
Weight: 7.0 oz.
Dimension(approx): 3 7/8" x 5 3/4" x 1 1/2"
Specifications Of YX-360TR Poratble Analog Multimeter Voltmeter:
DC Voltage: 0.1-0.5-2.5-10-50-250-1KV
AC Voltage: 10-50-250-1KV
DC Current: 50uA-2.55mA-0.25A-10A
OHM Meter: X1-X10-X100-X1K-X10K
Basic Error: 5%
Package Includes:
1 x Multimeter YX-360TR
2 x Probes
Best Online Shopping Website for Handheld Analog Multimeter YX360TR Energy Analog Meter Analog Tester Voltmeter in cheap price in Karachi, Lahore, Islamabad, Rawalpindi, Sukkur, Peshawar, Multan, Quetta, Faisalabad and all over Pakistan.
SKU:

TMD,Th,KRT

/
Category: Meters
/