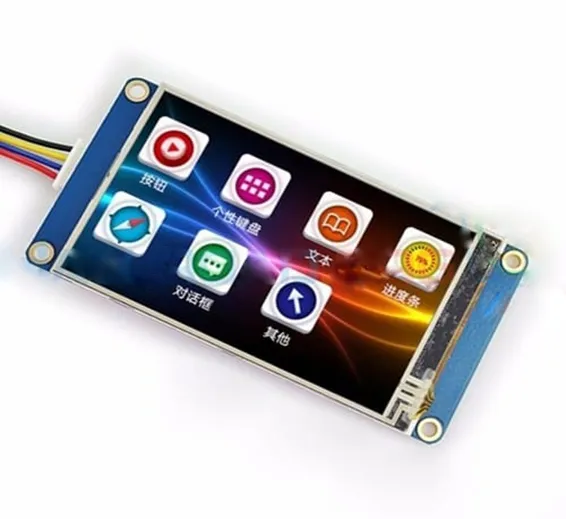 LCD Display
7 inch TJC TFT HMI LCD Touchscreen
Availability:
Out Of Stock
SKU: B365
7 inch TJC TFT HMI LCD Touchscreen is a Seamless Human Machine Interface (HMI) solution. 7 inch TJC TFT HMI LCD Touchscreen that provides a control and visualization interface between a human and a process, machine, application or appliance. TJC is mainly applied to the Internet of thing (IoT) or the consumer electronics field. It is the best solution to replace the traditional LCD and LED Nixie tube.
TJC includes a hardware part (a series of TFT boards) and a software part. The TJC TFT board uses only one serial port to communicate. It lets users avoid the hassle of wiring. We noticed that most engineers spend much time in application development but get unsatisfactory results. As a solution to this situation, TJC editor has mass components such as button, text, progress bar, slider, instrument panel etc. to enrich the interface design. Furthermore, the drag-and-drop function ensures that users spend less time in programming, which will reduce 99% of their development workloads.
It's easy to adapt TJC family HMI to existing projects. Users just need to provide it with a UART.
We are also selling TJC touchscreen in different sizes like 2.4", 3.5", 4.3", 5" etc.
Features of 7 inch TJC TFT HMI LCD Touchscreen:
RGB 16-bit colour real screen
Supports multiple configuration controls
Supports basic GUI instructions
Supports BMP, JPG, JPEG, PNG image format
Supports the automatic update of the superior software, and the firmware of the device is updated automatically
Backlight attenuation 100, sleep mode, standby current 20 mA, compatible with touch activation function
Supports serial download and SD card download in two ways, supports analogue debugging by PC, supports simulator and debug device synchronization
Specifications of 7 inch TJC TFT HMI LCD Touchscreen:
Touch method: resistant touch
Operating voltage: 4.75-7 V
FLASH space: 4 MB
RAM space: 2048 bytes
Resolution: 320 * 240
Operating temperature: -20 / + 70 ° C
Communication interface: USART serial interface
Level interface: 3.3 V CMOS (5 V compatible)
Package Includes:
1x LCD screen module
1x Cable
Best Online Shopping website for 7 inch TJC TFT HMI LCD Touchscreen in cheap price in Karachi, Lahore, Islamabad, Rawalpindi, Sukkur, Peshawar, Multan, Quetta, Faisalabad and all over Pakistan.