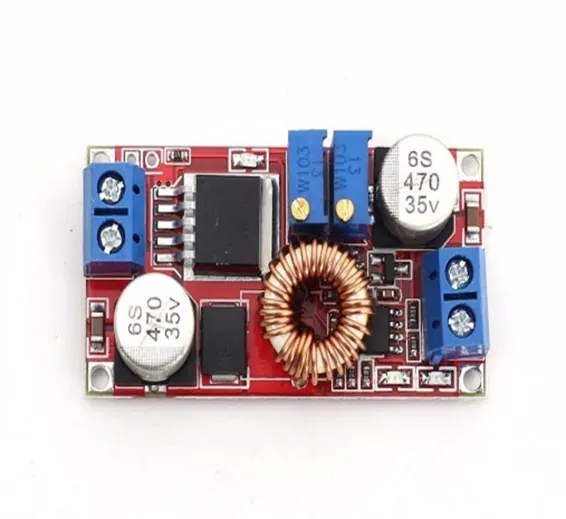 Battery Charger & Supply
5A constant current voltage LED drive lithium ion battery charging adjustable step-down power supply module board in Pakistan
Availability:
Out Of Stock
SKU: B109,D114,IMP10,Th3,KRT514
This module is easy to use and powerful!!!
A module has 3 functions to meet your most occasions! !!
Module Highlights:
High power, high efficiency, 5A, low ripple;
Three in one:
( 1 ) Used as a normal buck module with overcurrent protection capability;( 2 ) Used as a charger for various voltage value lithium batteries, batteries, nickel-cadmium nickel-hydrogen batteries (battery packs), for solar panels, wind turbines, etc.;( 3 ) used as high power LED constant current drive module;
There are two modes of constant voltage and constant current, and there are indicators to indicate which mode the module is currently in;
When used as a lithium battery charger, you can set the float voltage and charge current.
Is it charging or already full;
With current limiting protection, the module will not burn out even if the output is short-circuited.
Features:
Input voltage: 4-38V
Output voltage: 1.25-36V continuously adjustable
Output current: adjustable, up to 5A
Output power: up to 75W
Working temperature: -40~+85 degrees
Working frequency: 180KHz
Conversion efficiency: up to 96%
Short circuit protection: Yes (limited current 8A)
Over-temperature protection: Yes (automatically turn off the output after over temperature)
Input reverse connection protection: None, (If necessary, please input a large current diode in the input string)
Installation: 4 Ke 3mm screws
Wiring method: terminal block or soldering terminal, V-IN is input, V-OUT is output
Package Include:
1X5A constant current voltage LED drive lithium-ion battery charging adjustable step-down power supply module board