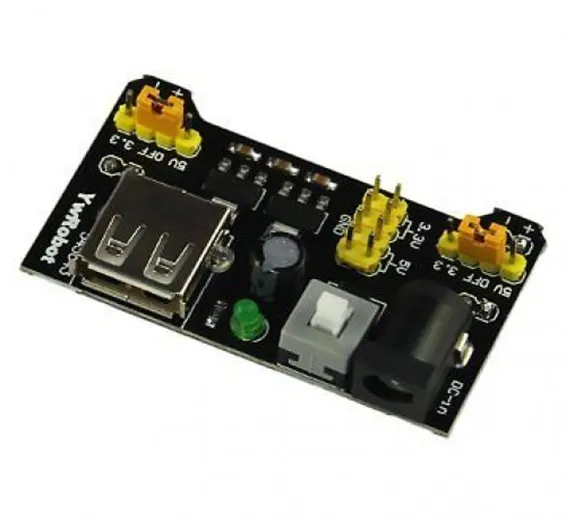 SKU: B94,D156,IMP50,Th20,KRT08+514,N167
This solderless breadboard Power Supply Module makes powering your prototype a snap. With a standard 2.1mm barrel jack you can power it with a 9v battery using a snap-on connector or a wall-wart. With a convenient ON/OFF button switch with indicator LED you don't have to keep plugging in and unplugging your power source. The rails are powered separately so you can have one side as 3.3v and the other as 5v. There is also an off position for the jumper to break the circuit and not power the rail at all. The board has a 2 x 4 group of male headers with 2 sets for 3.3v to GND and 2 sets for 5v to GND. One of our favorite features is the USB-A port to plug in your USB powered dev boards like an Arduino. This gives the added benefit of tying the breadboard ground to the dev boards ground as well. There is a nice feature set in this little board and it's a real time saver for a power supply module. Listing is for 1 breadboard power supply. Breadboard not included.
Package Includes:
1 x MB102 Breadboard Power Supply Module
Specification and Features:
Breadboard power supply module, compatible with 5V, 3.3V.
Apply to MB102 breadboard
Input voltage: 6.5-12 V (DC) or USB power supply
Output voltage: 3.3V/5V can switch over
Maximum output current: <700 ma
Fluctuation two road independent control, can switch over to 0 V, 3.3 V, 5 V
On-board two groups of 3.3V, 5V DC output plug pin, convenient external lead use.
Size: 53 x 32 x 23 mm.