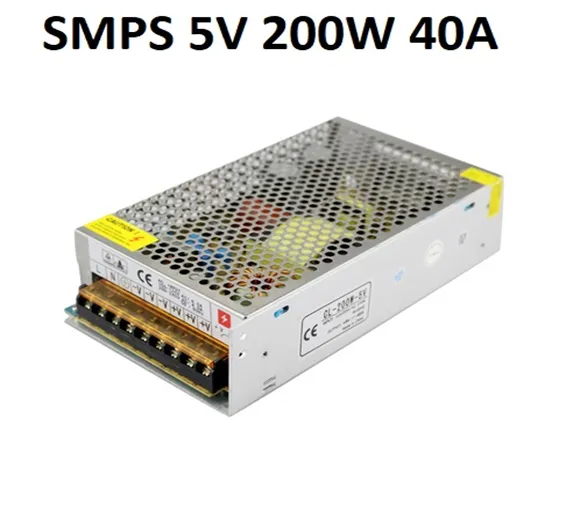 A 5v switched-mode power supply (SMPS) is an electronic circuit that converts power using switching devices that are turned on and off at high frequencies, and storage components such as inductors or capacitors to supply power when the switching device is in its non-conduction state. A switched-mode power supply is also known as a switch-mode power supply or switching-mode power supply.
Features Of 5V Switching Dc Power Supply:
The SMPS supplies 5V power for Home & Industrial Appliances.
AC input selectable by switch
Cooling by free air convection
Low cost, high reliability
Protections:short circuit/overload/over voltage
100% full load burn-in test
It recovers automatically after protection
The device is great for Home Appliances as a switching power supply.
It has a built-in EMI filter and improved signal precision.
Specifications Of 5V 200W SMPS For LED lighting:
Model Number: T-200-5
Power Type: Constant voltage
Material: aluminum
Output Current: 40A
Output Frequency: 50/60HZ
Output Type: Triple
Output Power: 200W
Output Voltage: 5v
Input Voltage: 110/220v
Power Factor: <85%
Protected Functions: Short circuit/Overload/Over temperature
Usage: Indoor use
Applications Of LED SMPS 5v 200w :
LED Lighting
RGB LED Strip
SMD
CCTV Cameras
Street Light
Lawn Lamp
Advertising Article Screen
Note:
IN-DOOR USE ONLY!
External power supply round hole meshes heat vents, in the range of 20 inches within the outlet Do not place other flammable items.
Within 2 inches the product range does not place other items, to ensure that the power supply has a good thermal environment, to ensure safety.
Please accurately calculate the load power, do not overload. When the power is working, do not touch the case.
Do not short-circuit output if no output, please use off one minute re-energized.
Before electricity use, carefully verify the power link is correct, rigorous power lines reversed.
The professional installation of qualified electricians is highly recommended.
Package Include:
1x Switching Power Supply SMPS 5V 200W 40A
Buy Switching Power Supply SMPS 5V 40A 200W at Pakistan's Best Online Store at cheap price. Here you get a wide range of SMPS. We Deliver in Gujranwala, Karachi, Lahore, Islamabad, Rawalpindi, Multan, Quetta, Faisalabad and all Over Pakistan