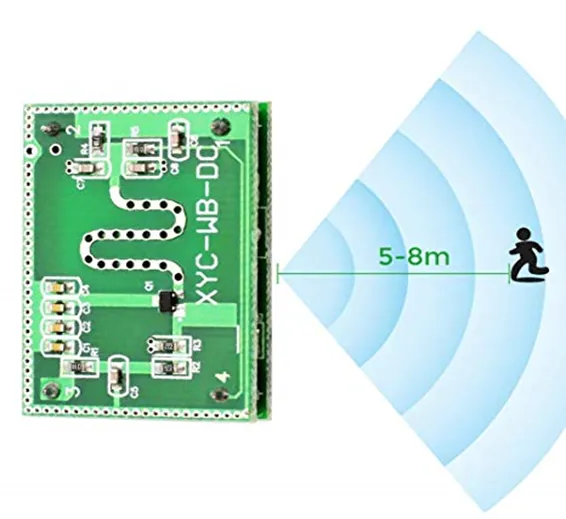 Sensors
5.8GHZ Microwave Radar Motion Sensor Module In Pakistan
SKU: D 82 B101,IMP10,Th5,KRT,N97
This 5.8GHZ Microwave Radar Motion Sensor Module In Pakistan operates at 5.8GHz and will not affect any 5GHz home Wi-Fi devices. Commonly used as an alternative for PIR Motion Sensors, this sensor is slimmer and offers a wider angle field of view. This module also consumes less power, so if you are planning on operating this device over a battery source it is highly recommended to use this module over the common PIR sensors. Since this module operates at the 5.8GHz frequency it will also work through walls, this can be an advantage or disadvantage for your projects. This unit is a sensor and requires a microcontroller to process the data!
Holding the board with the white connector facing away from you, the rightmost pin that has R1 labeled on the side is for Analog output. The middle is for ground and the leftmost pin is for Vcc. We recommend supply 5VDC to run with Arduino.
Specifications:
Working voltage: 3.3-20VDC
Standby quiescent current: <3mA
Transmit power: <2mW
Working environment temperature: -20°~+80°
Trigger: Repeat Trigger (default)
Output signal: TTL level; high->3.3V/Low->0V
Detection angle: 360°(spherical) no dead ends
Detection range: 6-9 meters (when ordering optional). The default setting 8 meters
Working delay: 1 second to hundreds of seconds, the default setting 30S;
Usage notice:
It is better away from wall about 3-4 meter against get sensor from another side of wall.
Open areas more responsive.
Applications (typical) :
Security
Intelligent Lighting
Body sensors toys
Industrial automation and control
Auto-sensing electrical equipment
Battery-powered automatic control
Package includes:
1x5.8GHZ Microwave Radar Motion Sensor Module