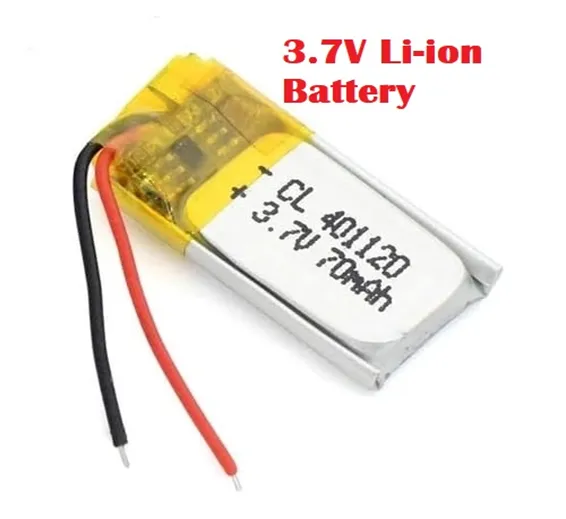 3.7V 70mah Lithium ion Li-ion Battery, or more correctly lithium-ion polymer battery (abbreviated as LiPo, LIP, Li-poly, lithium-poly and others). 3.7V 70mah Lithium ion Li-ion Battery is a rechargeable battery of lithium-ion technology using a polymer electrolyte instead of a liquid one. High conductivity semisolid (gel) polymers form this electrolyte. These batteries provide higher specific energy than other lithium battery types and are being used in applications like tablet computers, cellular telephone handsets or radio-controlled aircraft.
We have also 3.7V 1000mah Li-ion Battery, 3.7V 5000mah Li-ion battery, 3.7V 2000mah li-ion Battery etc.
Features of 3.7V 70mah Lithium ion Li-ion Battery:
High energy density: volume energy density can be 300mWh
Excellent security: no fire, no explore of short-circuit, over-charge, over-discharge, over-current, shock, vibration, crush, acupuncture
Long cycle life: capacity recovery can be above 80% after 500 cycles
High discharge voltage plateau: 3.6V discharge voltage plateau than 42min
Environment-friendly: no PB, CD added
Flexible size design subject to different space of the application
CE / RoHS Directive-compliant / REACH/UL / MSDS/UN38.3 / IEC61233 standards
Specifications of 3.7V 70mah Lithium ion Li-ion Battery:
Name Lithium-ion polymer battery Model number HC-1 Voltage 3.7V Capacity 70mAh Dimensions (T) 3.0* (W) 16 * (H) 22mm Standard charge current 0.2/0.5C Maximum charge current 1C Open circuit voltage 3.7-3.9V Cut off voltage 2.75/4.2V Cycle life 500 times Appearance without scratch, distortion, contamination and leakage
Applications:
Arduino, Nodemcu, Wemos, Esp8266, IoT, Bluetooth earphone, smartwatch, smart wearable, bank U-key, POS device, medical equipment and other portable devices.
Package Includes:
1 x 3.7V 70mah Lithium ion Li-ion Battery
Best Online Shopping website for 3.7V 70mah Lithium ion Li-ion Battery in cheap price in Karachi, Lahore, Islamabad, Rawalpindi, Sukkur, Peshawar, Multan, Quetta, Faisalabad and all over Pakistan.