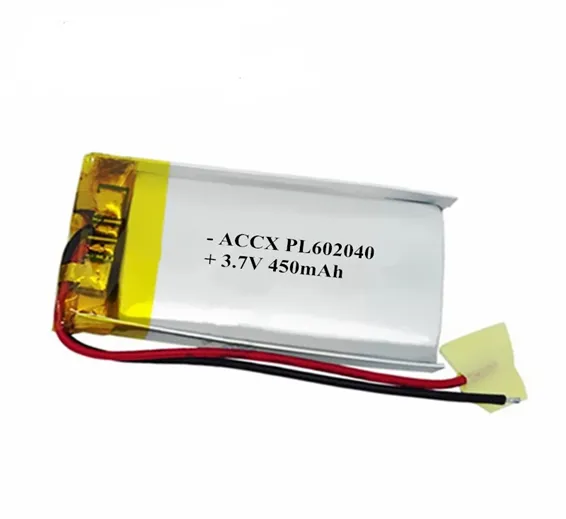 3.7V 450mAh lithium-ion battery is widely used in portable consumer electronic devices, and in electric vehicles ranging from full-sized vehicles to radio controlled toys. The term "lithium battery" refers to a family of different lithium-metal chemistries, comprising many types of cathodes and electrolytes but all with metallic lithium as the anode. The 3.7 v 450mah rechargeable battery requires from 0.15 to 0.3 kg of lithium per kWh. As designed these primary systems use a charged cathode, that being an electro-active material with crystallographic vacancies that are filled gradually during discharge.
Features Of 3.7-Volt Lithium-ion Battery:
Lithium batteries are light in weight, small in size, large in capacitance, high in energy and high in safety
Lithium battery core raw materials. The core itself has overcharge, overpressure, and over the flow of four safety protection. It fundamentally solves the hidden dangers of a short circuit, leakage, explosion and other aspects of lithium batteries.
Lithium batteries use lithium battery cores in series.
Charging chip protection plate(using military-grade smart IC chip, with overcurrent, overpressure, overcharge, overcharge, under-voltage, short circuit, reverse connection, equilibrium voltage and equilibrium charging and other multiple protection functions) to ensure the safety and reliability of the battery pack.
Lithium batteries are used for a long time. The cycle can be charged and discharged more than 600 times. LED light source operating time of 20,000 hours, lithium battery life 2-3 years.
Specifications of 450mah Lithium ion Battery:
Nominal voltage: 3.7V
Minimum capacity: 450mAh(0.2C discharge)
Charging voltage: 4.2V
Discharging cut-off voltage: 3.0V
Standard charging: 0.2C /4.2V
Max charging: 1.0C /4.2V
Standard discharging: 0.2C/3.0V
Continuous discharge: 1.0C/3.0V
Non-continuous discharge: 2.0C/3.0V
Shipment voltage: ≥3.85V
Battery pack impedance: ≤50mΩ
Charging: 0°C ~ 45°C
Discharging: -20°C ~60°C
Storage (At 50% SOC and specified temp): 20±5℃ is the recommended storage temperature
Visual Inspection: There should not be any remarkable scratches, cracks, bolts, cauterization, deformations, swelling, leakage and so on the surface of the cell.
Reference standard: GB/T 18287-2013,IEC/EN61960, UL1642
Package Includes:
1 x 3.7V 450mAh Li-ion Battery
Best Online Shopping website for 3.7V 450mAh li-ion Battery in cheap price in Karachi, Lahore, Islamabad, Rawalpindi, Sukkur, Peshawar, Multan, Quetta, Faisalabad and all over Pakistan.