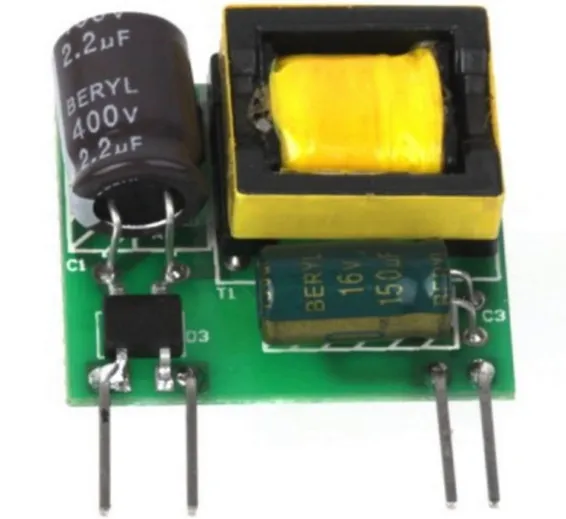 SKU: B 204,IMP50,Th30,KRT
Power supply modules are used to convert AC power into usable DC power so that the system to be powered may operate properly. ... It is also there for safety reasons so that power grid high voltages are not (usually) present inside an electronic system. This PCB Mount 12v Power Supply is for the isolation module power, with temperature protection, overcurrent protection, and short circuit protection, high and low Voltage isolation. It is small in size and has a stable performance.
Features:
Module Properties: Ultra-small, Precision, isolated Switch Power Supply, AC to DC Buck module, With indicator
Input voltage:AC 90V~250V 50/60HZ
Output voltage:DC 12V (0.2V)
Output Current:400mA
Specifications:
1.Working Temperature:-20 ~ 60
2.Relative Humidity 40 ~ 90%RH
3.Technical Requirements
- Input Voltage Range:90~ 265v
- Input Current:
0.0273A(AC110V)
0.014A(AC220V)
Input Inrush Current: 20A
Output Voltage Range:11.80~12.1V 0~500mA
Output Power:0 ~4.8W
Output Efficiency:80%
Input Voltage Of AC85 ~ 265v 50/60 HZ
Output Voltage DC12V (0.1V)
Output Current 400MA
Buy PCB Mount 12v Power Supply Module at Pakistan's Best Online Shopping Store at cheap price. Here you get a wide range of Ac-to-Dc 12v PCB Adapter. We Deliver in Gujranwala, Karachi, Lahore, Islamabad, Rawalpindi, Multan, Quetta, Faisalabad and all over Pakistan.
Package Include:
1x 12v Power Supply Module PCB Mount