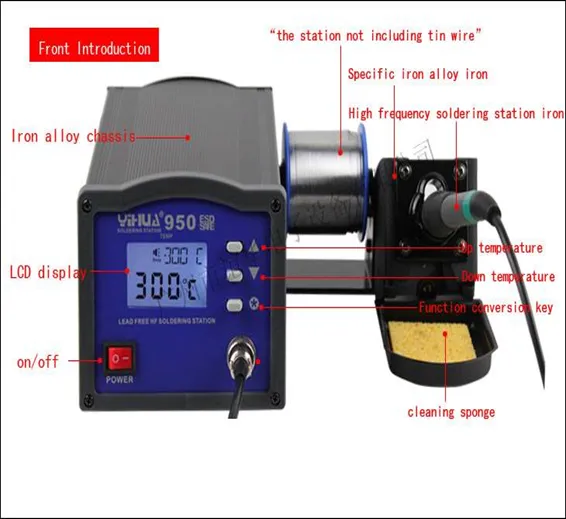 YH-950 station has been designed to be a professional and functional tool while maintaining small size. The station has two separate control panels for hot air soldering iron and soldering iron. In addition, we have the ability to regulate the temperature and power of the air blast, and both devices operate independently.
Features:
High-quality electronics ensure that the TK•950 delivers professional results and dependable service for any hobby application or household project.
Heavy-duty 60watt design.
Heats up quickly to selected temperature, and holds settings within 1.8°F (1°C).
Slender, insulated handle for comfortable grip.
Includes chisel point tip and pencil tip.
Also comes with iron stand, sponge and vinyl wrap.
Unparalleled 5-year warranty on the unit, 1 year on the iron handle's electronics.
Specifications:
Dimensions: 4.7x3.7x2.8" (120x93x70mm)
Weight: 2.9 lb (1315 g)
Power: 60W
Temperature Range: 392-896°F (200-480°C)
Requirements: Solder
Max Input Voltage: 120V AC
Package Includes:
YIHUA 950 Hot Air Soldering Rework Station
Application occasion
This product using high-frequency eddy current heating principles and techniques to achieve high-strength lead-free solder.
In addition, to adopt to the general welding, but also particularly suitable for multi-tin, crude terminals, large joints, and other circumstances,
are widely used in universities, research institutes, laboratories, production lines, maintenance department etc. welding applications.
What's In The Box * main unit + soldering iron+ power cord * guide * soldering iron holder These are 220V units we also do accept special orders for 110V / 230V/ 240V units
SKU:

TMD,Th,KRT

/
Category: Tools
/