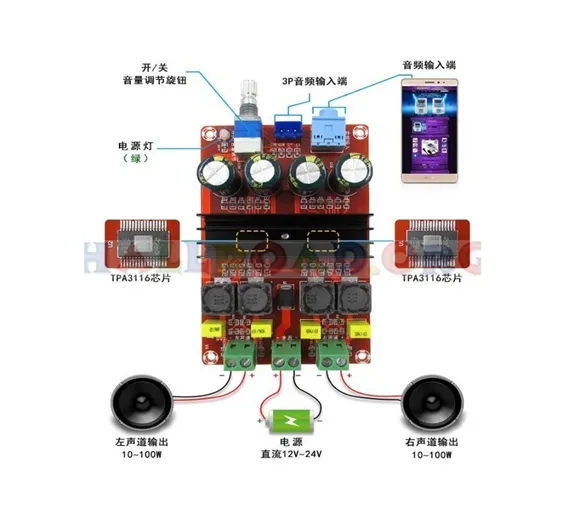 Capacitor, Resistor, Inductor
XH M190 TDA3116D2 High Power Digital Amplifier Board TPA3116 Dual Track 2 Channel 2x 51K Audio Amplifier in pakistan
Availability:
Out Of Stock
SKU: D37,B312,IMP5,Th2,KRT
XH-M190 TDA3116D2 High-Power Digital Amplifier Board TPA3116 Dual Track 2 Channel 2x 51K Audio Amplifier in Pakistan
Specifications: Chip: TPA3116 input voltage: DC12-24V Output Power: 2*100W Input resistance: 51K*2 Output matching: 4-8 ohm Frequency Range:14-100Kz SNR: 100db Output Track:2(left/right channel) Product size: approx. 105*65*23mm/4.13*2.55*0.9" Net weight: approx. 85g
1 x Digital Amplifier Board 4 x Screws
XH-M190 2*100W Digital Amplifier Board 12V-24V Wide Voltage TPA3116 Dual Channel Amplifier Board
Using a wide DC voltage
Digital IC High Resolution
High efficiency and low heat
100W * 2 superpower
Proposed power supply DC 12-24V 100 or more switching power supply. This board is a finished board, a received can be used.
Using two new imports TPA3116 amplification chip, combined with nano-technology, in the field of digital power amplifier ahead.
Clear sound, strong amplification function, high efficiency, high-frequency response density.
Product name Digital audio amplifier board Product number XH-M190 Chip Name TPA3116D2 Input power DC12-24V Output Power 2 * 100W input resistance 2 * 51 kohm Power efficiency 90% or more Output match 4-8 ohm Frequency response range 14Hz-100kHz Signal to noise ratio 100db physical dimension 105 * 65 * 23mm Product Weight 90g
SKU:

D37,B312,IMP5,Th2,KRT

/
Category: Components
/