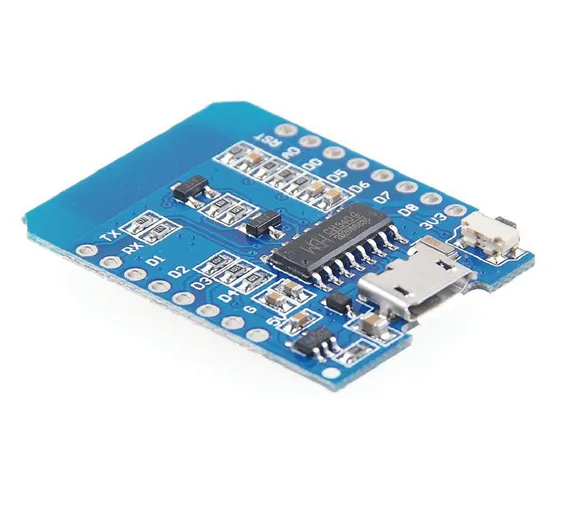 SKU: B76,D158,IMP100,Th30,KRT515,N12
Online Shopping website for Wemos D1Mini. Here you get Wemos D1Mini in reasonable price in karachi, lahore, islamabad, rawalpindi, peshawar, quetta, multan and all over pakistan. With esp8266 chip It has comparison with nodemcu, arduino wifi and other wifi modules.
This IOT Wemos D1 Mini WIFI Internet Of Things Development Board based on ESP8266 esp12e, Wemos d1 Mini is a WIFI board based on ESP-8266EX. 11 digital input/output pins, all pins have interrupt/PWM/I2C/one-wire
supported(except D0)
1 analog input(3.3V max input) and a
Micro USB connection
. The Wemos D1 Mini is a great board to develop WiFi-based IoT Projects. It uses the popular ESP8266 Module for its IoT operations.
Specification and Features of Wemos D1 Mini:-
11 digital input/output pins, all pins have interrupt/pwm/I2C/one-wire
supported(except D0)
1 analog input(3.2V max input)
Micro USB connection
Use BRT (Bias Resistor Transistor), easier into flash mode.
30% increase in radiating area, more stable.
Dimensions : 35 x 26 x 8 (LxWxH) mm.
Weight: 10 gm.
Board Color : Blue
Compatible with Arduino
Compatible with NodeMCU
Compatible with MicroPython
Package includes:
1 x Wemos D1 Mini WIFI