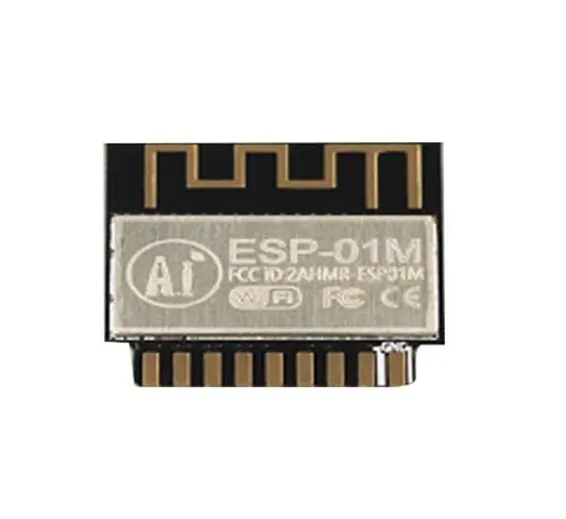 Best Online Shopping website forESP8285 ESP-01M Wifi Module Here you get ESP8285 ESP-01M Wifi Module in reasonable price in Karachi, Lahore, Islamabad, Rawalpindi, Peshawar, Multan, Quetta, Faisalabad and all over Pakistan.
ESP8285 ESP-01M Wifi Module is a complete and self-contained WiFi network solution. ESP8285 ESP-01M Wifi Module can operate independently or as a slave running on other hosts MCUs. The ESP8285 is capable of booting directly from external flash memory when it is powered by an application and is the only application processor in the device. The built-in cache helps improve system performance and reduce memory requirements.
We have also a large variety of more Wifi Modules like ESP-01, WEMOS-D1, Wifi-101 etc.
Features of ESP8285 ESP-01M Wifi Module:
Supports UART/GPIO/PWM/ADC
Deep sleep current as low as 20uA
Embedded lwIP protocol stack
Supports STA/AP/STA + AP operation mode - Support Smart Config/AirKiss technology
UART baud rate up to 4Mbps
General AT commands can be used quickly
Supports remote firmware upgrade (FOTA)
Package: DIP-18
Size: 18x18x2.8mm
SPI Flash: built-in 1MByte
Interface: UART/GPIO/PWM/ADC
IO Port: 11
UART Baudrate: 300-4608000bps,default is 115200
Frequency range: 2412-2484MHz
Antenna: PCB antenna,2dBi
Secondary development: support
Specifications of ESP8285 ESP-01M Wifi Module:
Transmit Power:
802.11b: 16±2 dBm (@11Mbps)
802.11g: 14±2 dBm (@54Mbps)
802.11n: 13±2 dBm (@HT20, MCS7)
Receiving Sensitivity:
CCK, 1 Mbps : -90dBm
CCK, 11 Mbps: -85dBm
6 Mbps (1/2 BPSK): -88dBm
54 Mbps (3/4 64-QAM): -70dBm
HT20, MCS7 (65 Mbps, 72.2 Mbps): -67dBm
Power (Typical Values):
Continuous Transmission => Average: ~ 71mA
Peak: 300mA
Modem Sleep: ~20mA
Light Sleep: ~2mA
Deep Sleep: ~0.02mA
Power Supply: Voltage 3.0V ~ 3.6V Current >300mA
Operating temperature: -20 ~ 85℃
Storage Environment: -40 ~ 90 , < 90%RH
Security:
WEP/WPA-PSK/WPA2-PSK
Pcakage includes:
1 x ESP8285 ESP-01M Wifi Module