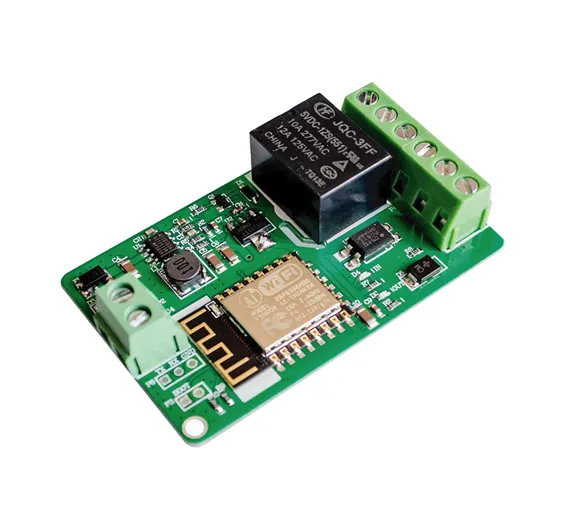 SKU: B233,IMP15,L20,TH10,KRT
The ESP8266 Wifi Relay is a low-cost Wi-Fi-based microchip with full TCP/IP stack and microcontroller capability. This ESP8266 10A 220V Network Relay WIFI Module will take charge of your electrical equipment by WIFI control..
Specifications Of WIFI Relay:
Model: ESP8266 Wifi Relay
Color: Green
Size(L*W*H):65 x 40 x 18 mm
ISM: 2.4 GHz
PA:+ 25 dBm
Relay voltage: 220 V
Relay Current: 10 A
Input voltage: DC 7 V~30 V
Features:
More safe with relays PCB pin anti-climb design.
With ESP8266 Wifi module,4-layers board design.
One output status indicator, one input status indicator.
220V 10A relay, one normally open, one normally closed.
One way optocoupler isolation input, TVS input protection.
Access control server via TCP CLIENT mode Via HTTP protocol control.High-current terminals.
Input overvoltage protection, input with TVS, when voltage exceeds 33V, automatic protection will operate.
Click to download instruction Package included: 1 x ESP8266 WIFI Module