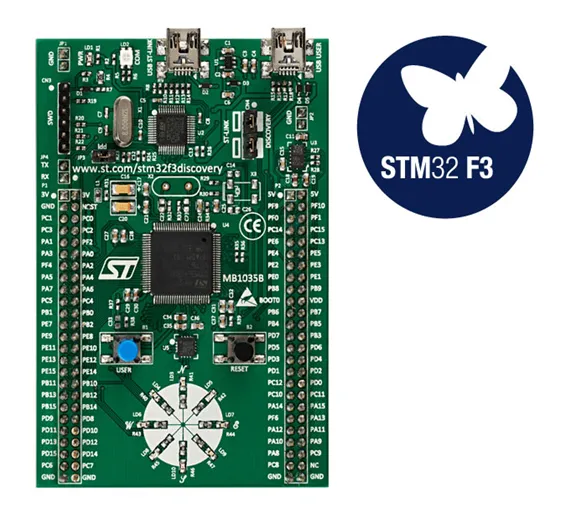 STM & Microchip
STM Discovery Kit STM32F3 STM32F303VC With Programming Cable
SKU: IMP,Th4,KRT133
The STM32F3 DISCOVERY allows users to easily develop applications with the STM32F3 Series based on ARM® Cortex®-M4mixed-signal MCU. It includes everything required for beginners and experienced users to get started quickly.
Based on the STM32F303VCT6, it includes an ST-LINK/V2 or ST-LINK/V2-B embedded debug tool, accelerometer, gyroscope and e-compass ST MEMS, USB connection, LEDs and push-buttons.
The STM32F3DISCOVERY discovery board does not support the STM32F313xx MCUs (1.65 V to 1.95 V power supply).
Key Features
STM32F303VCT6 microcontroller featuring 256-Kbyte Flash memory, 48-Kbyte RAM in an LQFP100 package
On-board ST-LINK/V2 for PCB version A or B or ST-LINK/V2-B for PCB version C and newer
USB ST-LINK functions:
Virtual COM port with ST-LINK/V2-B only
Mass storage with ST-LINK/2-B only
Board power supply: through USB bus or from an external 3 V or 5 V supply voltage
External application power supply: 3 V and 5 V
L3GD20, ST MEMS motion sensor, 3-axis digital output gyroscope
LSM303DLHC, ST MEMS system-in-package featuring a 3D digital linear acceleration sensor and a 3D digital magnetic sensor
Ten LEDs:
LD1 (red) for 3.3 V power on
LD2 (red/green) for USB communication
Eight user LEDs: LD3/10 (red), LD4/9 (blue), LD5/8 (orange) and LD6/7 (green)
Two push-buttons (user and reset)
USB USER with Mini-B connector
Extension header for all LQFP100 I/Os for quick connection to prototype board and easy probing
Comprehensive free software including a variety of examples, part of STM32CubeF3 package or STSW-STM32118 for legacy Standard Library usage
Note:
Blue or Green Both Color Products Are Original and manufactured By STMicroelectronics), No difference in any kind of programming or circuit .
Package Includes:
1x STM Discovery Kit STM F3 STM32F303VC Color May Blue or Green
1x Programming Cable