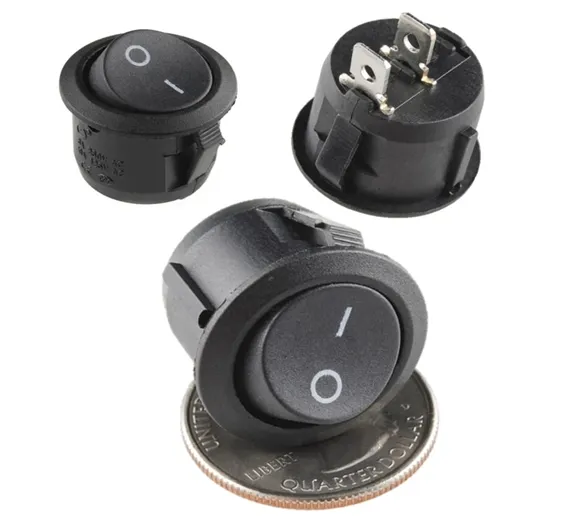 SKU: B 338 , D 29,LS20,Th5,KRT
SPST Round Rocker Switch Button is an on/off switch that rocks. SPST Round Rocker Switch Button, (rather than trips) when pressed, which means one side of the switch is raised while the other side is depressed much like a rocking horse rocks back and forth. A rocker switch may have a circle (for "on") on one end and a horizontal dash or line (for "off") on the other to let the user known if the device is on or off. Rocker switches are used in surge protector s, display monitors, computer power supplies, and many other devices and applications. A rocker switch with independent circuitry can have a light-activated on the face of the switch in both the on and off positions, which allows the switch to be found easily in the dark. With dependent circuitry, the light is activated only when the switch is on.
We have also 20A Rocker Power Switch, 12x12x7.5mm Push Button, 0.5A 2 Pin Puch Button etc.
Features of SPST Round Rocker Switch Button:
Miniature 15mm Round Black On-Off Rocker Switch with SPST solder terminals.
The switch is designed for snap-in mounting which requires a hole of 19mm.
It requires no additional fixings.
Small and discreet in size.
RoHS Compliant.
Specifications of SPST Round Rocker Switch Button:
Type: On/OFF (SPST)
Terminals: 2 Terminals
Voltage & Current: 6A 250V AC(for resistive load only) 10A 125V AC(for resistive load only)
Total Size(Each One): 23 x 29mm/ 0.9" x 1.1"(D*T)
Mount Hole Diameter: 19mm / 0.75"
Colour: Black
Material: Plastic & Metal
Package Includes:
1 x SPST Round Rocker Switch Button
Best Online Shopping website for SPST Round Rocker Switch in cheap price in Karachi, Lahore, Islamabad, Rawalpindi, Sukkur, Peshawar, Multan, Quetta, Faisalabad and all over Pakistan.
SKU:

B 338 , D 29,LS20,Th5,KRT

/
Category: Components
/